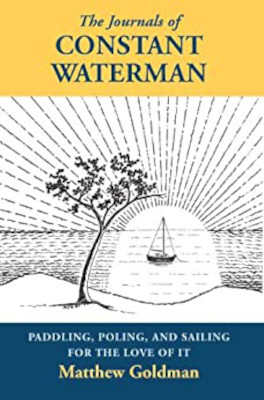 Definition of a Constant Waterman: Someone who delights in the greater portion of our Earth. A harmless monomaniac with habitually wet feet, Matthew Goldman.
Matthew Goldman is the Constant Waterman. The ninety memoir-type tales included in this collection are proof; and anyone who enjoys boating, sailing or just life on or around the water will find this book an appealing read.
The "shorts" are reflective, and Matthew uses vivid descriptions that "really take you there." As you read, you'll find yourself slowly relaxing. Your senses will awaken and you'll find yourself feeling what the author is feeling, seeing all of the surroundings he's describing and hearing all that he hears. Listen — to the sound of wings flapping — it's birds — taking flight above your head. Do you hear it?
The Journals of Constant Waterman is a compilation of stories that were originally published in Messing About in Boats, Good Old Boat, and WindCheck. Enjoy them a chapter — or a story — at a time.
The table of contents divides the readings into three sections: Paddling, Poling and Rowing; Sailing; and A Word from the Waterfront.
Matthew shares stories about the places he has been, boats he has owned and his multitude of experiences on the water. He describes his own water mishaps, fishing expeditions, special childhood vacation memories and being hired at age 25 to help find the Loch Ness Monster. Each story is unique. The passion of all his "water" experiences is contagious — even if you aren't a Constant Waterman yourself.
Last, but certainly not least, the glossary on page 323 is an especially useful feature. Whether you're a landlubber or have your sea legs, perusing this section will enlighten you, refresh your memory, and even tickle your funny bone.
Definition of seasick: A malady attributable to spending too long ashore.
The Journals of Constant WatermanM is simply a must read.
The Journals of Constant Waterman:  Paddling, Poling and Sailing for the Love of it by Matthew Goldman (Breakaway Books, Halcottsville, NY, 2007; 336 pages)