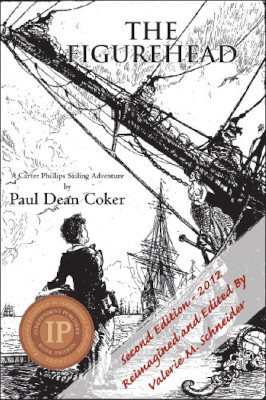 With The Figurehead, released in September 2006, Paul "Dean" Coker has created the first of a series he calls the Carter Phillips Sailing Adventures.
With this introduction to his sailor and architect protagonist, Dean creates a cast of characters who Carter meets when he settles in Marblehead, Mass., to commission his sailboat. Before long, Carter is helping with the construction of a wooden schooner and involved on the fringes of a group of Irish Americans who are working to support the peace process in Northern Ireland.
Before his boat is launched, Carter has formed some lasting friendships, been practically adopted by a family, and fallen in love…all of which make it difficult to leave Marblehead as the spring ripens into summer.
Because the Northern Ireland situation is hotly contested by several groups, there is mystery and intrigue along with a couple of surprises for the unsuspecting reader. And there is an interesting look at the tsunami of 2004 as it affected the Maldive Islands off the southern tip of India. (To find out how that was worked into the plot of a novel set in Massachusetts, you have to read the book.) There are spies and counterspies, all monitored by the U.S. Coast Guard and other government agencies.
Because this is a Carter Phillips Sailing Adventure, there is also some excitement at sea when things go from bad to worse during some rough weather. As I was expecting a sailing adventure, I would have liked for Carter to spend more time at sea and less time trying to understand the locals.
Dean Coker has an active imagination and a good writing style. At times he's positively inspired. But this book suffers from the lack of concise editing and spends too much time setting the scene before the action heats up halfway into the book.
The Irish/Massachusetts dialect is well represented in this book, but it becomes a distraction when, in order to follow the story, the reader must translate pages of dialogue between characters with strong brogues back into English.
Nevertheless, The Figurehead introduces a likeable character in Carter Phillips and is a reasonable attempt for a first novel.
The Figurehead by Paul Dean Coker (Coastwise Communications, 2006; 476 pages)