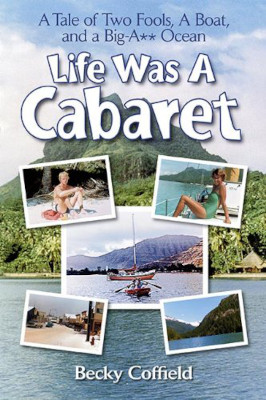 Either Becky Coffield has a very good memory or she took excellent notes back in the 1970s when she and her husband, Tom, spent six years cruising north and south, from Oregon to Alaska and on down to Mexico, then east and west across to the South Pacific and home once more. As they went along, they learned much about themselves, their relationship, their boat, cruising, and life in general. In retrospect, they say they were fortunate enough "to stay afloat during 25,000 miles of adventure and fun."
Retrospect is the key here. Because she did not write the book until decades later, Becky is able to look at these events with a perspective not usually available to the writer who makes the trip, writes the book, and moves on to other matters. By then, I would worry that the details would be missing, but Becky has forgotten little. In fact, the stories may even have grown in the retelling over the years. Old stories have a way of doing that. Occasionally it takes the addition of several decades to see the humor in a situation. Certainly Becky's memory has a penchant for comedy.
Becky tells her readers that she and Tom first dreamed of this voyage over a pitcher of margaritas while on their honeymoon. After practicing a short time, they thought they'd become fairly skilled with a Lido 14 and began thinking big. They heard of a man who, disenchanted with sailing, had stepped off the boat and sold his Ericson 32 for $6,000 to the first taker. As a young couple, Becky and Tom became hopeful that they could find a similar disenchanted sailor. Why not?
It didn't happen exactly that way, of course. The boat that became Cabaret, their cruising sailboat, was a 34-foot Cal 2-34. She won their hearts and most of their paychecks for several years until they quit their teaching jobs in Oregon and headed north. The book describes their search for jobs in Alaska, living aboard through two winters while completing their boat payments, and then taking off for the South Pacific, via the Baja. As they think back, Alaska wins as their favorite cruising ground.
Much of the book describes their voyage in terms of places they went, people they met, and their personal growth as the years went by and they gained experience and confidence. Many sailors who are considering an extended cruise would benefit from the insights they gained. Many sailors who have been out there cruising would enjoy the enthusiasm with which this couple attacked life and the humor with which they learned its lessons. Becky has won several awards for Life was a Cabaret. You can find it in your local bookstore. Take a look inside and see if this cruising account is right for you.
Life was a Cabaret: A Tale of Two Fools, a Boat, and a Big-A** Ocean by Becky Coffield (Moonlight Mesa Associates, distributed by Seaworthy Publications, 2006; 148 pages)