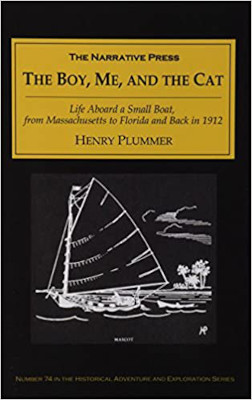 Turn your imagination on and transport yourself to 1912. You're aboard a 24-foot 6-inch Cape Cod Catboat, named Mascot, with one other person and a real cat, named Scotty, sailing from Massachusetts to Miami, Florida. This is a day-to-day log of an adventure in an era when few ventured far from their own snug harbors.
This saga is a most unusual round trip, the 1912-1913 voyage of Henry Plummer, from New Bedford, Mass.; his son, Henry Jr.; and their cat. They departed New Bedford October 10, 1912, and so began a log, written by Henry Sr. in his own style of quaint everyday language, which is both entertaining and witty, with some made-up nautical terms. Near New Brunswick, N.J., for example: "A wooly came over the high shore and things began doing at once" or "all day long we were knocked and smashed about by an indescribable jumble of crooked water."
Along the way they encounter storms, gales, cold, snow, and ice before reaching the warmth of Florida, which Henry didn't seem to care for – too many bugs. He tells about problems as well as the beauty of the day and the shore scenery. The trio went hard aground many times, and they were shipwrecked on a desolate area on the coast of North Carolina, where they patched and repaired the boat. It's a wonder they reached Florida at all!
Henry apparently enjoyed cooking and goes into detail about what they ate along the way. How about coot stew, Bologna a La Mascot (recipe included), old squaw stew, or what he did with 25 pounds of green turtle meat? In the epilogue, Henry Jr. admits he was not a sailor at heart but for eight months and eight days, Mascot was home, and he did his best, even though Dad did not always think so. Poor Scotty had her ups and downs, too, mostly panic attacks, which finally did her in. They gave her a Viking funeral.
The book has original photographs from that long-ago era plus Henry's own sketches and maps. I was intrigued with his observations about, and photos of, places I am familiar with today. A great read.
The first edition of this now classic story was self-published, mimeographed and handbound, in 1914 by the author in a limited edition of 700 copies which went to friends and subscribers. This edition received much publicity, many letters of praise, and requests for more copies. Then 50 years later it was privately re-published. Several years ago the Cat Boat Association acquired four albums of the author's original photographs plus personal papers, letters, and newspaper clippings. With these additions, the association published "this much enhanced edition . . . to keep it alive for future generations."
The Boy, Me, and the Cat by Henry Plummer (Cat Boat Association, 2001; 191 pages)