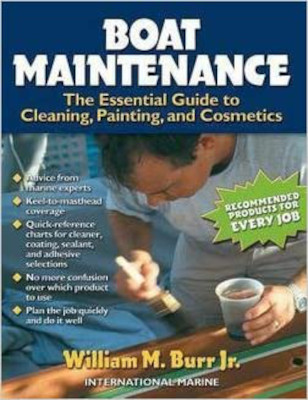 Bill Burr bought a 14-year-old boat, moved aboard, and set about making it "like new." His projects were not so much of the power tool, Sawsall, and mechanical variety, however. He didn't rip out the toilet, replace the cabin liner, install a new engine, or rebed the stanchions. Instead, he cleaned them.
In the process, Bill learned what works and wrote a book telling others how to make a boat sparkle: every square inch of fiberglass, wood, and fabric, and all the metal, plastic, vinyl, rubber, and line. And while he's at it Bill gives the reader a short course in coatings, sealants, and adhesives.
He couldn't resist. Bill retired from a career in the chemical industry, so he is able to explain what every sailor needs to know about the chemistry of available cleaning products. One particularly helpful section ranks cleaning products on a scale from acid to alkaline and tells how to choose what's right for the job. An enlightening appendix discusses the main chemical ingredients in brand-name products. He read the MSDS (Material Safety Data Sheets) so the reader doesn't have to. Bill does not believe you need a boat full of half-empty bottles, however, and is happy to recommend ordinary household products such as lemons and baking soda.
He breaks up the maintenance of fiberglass, wood, and metal into a process of first cleaning the surface; second, preparing it (by polishing or sanding); and third, protecting it from chemical or physical damage (using waxes, paints, varnishes, or other coatings).
This is important, he tells readers, because "A piece of equipment that has been kept clean and maintained according to the manufacturer's directions will seldom fail . . . A boat is made up of thousands of parts that must always work. Safety is no accident; it must be earned."
This book is well organized to help sailors keep their boats shipshape no matter how they go about a project. It offers maintenance schedules, tasks by section of the boat and type of job, as well as an index of brand-name products and an overview of their components.
What does a book like this do for those of us who own and love older sailboats? The author states it eloquently: "Has any other inanimate object created so many dreams of adventure? Boats have been called aphrodisiacs and vehicles to another life. When the wind and sun are perfect, when beauty, grace, and escapism combine, it is still efficiency, skill, prudence, and care that make everything work . . . laying hands on every inch of a boat's woodwork, fiberglass, and metal is the best way to know it, the way to keep it young and beautiful. In the end, Boat Maintenance is about prolonging the romance between you and your boat."
Boat Maintenance: The Essential Guide to Cleaning, Painting, and Cosmetics by William Burr Jr. (International Marine, 200; 170 pages)