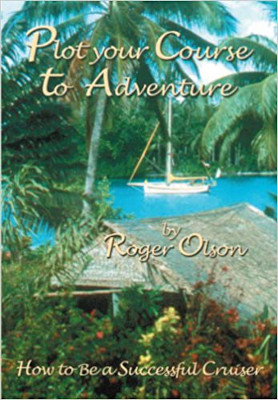 "Voyaging belongs to seamen and to the wanderers of the world who cannot, or will not, fit in," says Sterling Hayden in Wanderer. Roger Olson quotes him in Plot your Course to Adventure. He says, "For those just beginning to enter this adventure, I will continue to use the term cruiser. As we become more acquainted with the lifestyle, hopefully many will become wanderers."
So maybe it's fitting that Olson wanders through this book. Readers may find encountering "more on this later" and "as I stated in a previous chapter" frustrating.
Meant for readers who know how to sail and are deciding whether to cruise the oceans, the book may try to cover too much. As previous owner of the Sam L. Morse Company, Roger learned a lot about fiberglass boat construction. However hull construction techniques or the formula for calculating displacement may not be especially useful to most readers. Some good info on finishes will be. Don't sit on Treadmaster non-skid in your birthday suit while the boat is rolling.
There are good tips throughout the book from Roger's years at sea. Non-skid on plates and glasses: a simple touch that can save a dinner. Recipes for octopus that tastes good and is even tender may change your cruising diet.
Anecdotes bring home a point or lighten things up. "Never leave on a Friday." The keel was laid on a Friday for the HMS Friday. She was launched on Friday and left on her maiden voyage on a Friday, to prove it's safe. "She was never seen again."
Sailing stories and adventures included are mostly Roger's personal experiences in the South Pacific. Enlightening, entertaining, and sometimes really funny, these dramatize his points about such important topics as anchoring techniques, safety issues, and having fun.
Other books are referenced throughout, but there's no reference section. If you're thinking about world cruising, this is another book to read when you have a lot of free time on your hands. Reading clear through is best, as it's not organized for looking up something specific. You may want to take it aboard long enough to follow the illustrations and practice anchoring methods. If you want expert advice and in-depth knowledge, take Roger Olson's advice: get such books as Lin and Larry Pardey's Storm Tactics Handbook. Then wander on.
Plot Your Course to Adventure, How to be a Successful Cruiser by Roger Olson (Author House, 2004; 645 pages)