THUMBS UP FOR SHOWING PFD USE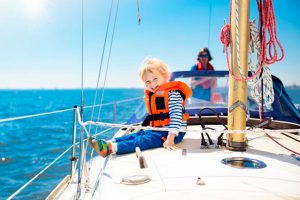 Glad to see you've got a photo of a kid with a PFD on. Last year's discussion on this topic was unnerving for me, and I was quite disappointed that some on your end defended the use of photos showing children without them.
–Rob Hill, Westport, Massachusetts
Hi Rob, we featured two photos of kids wearing PFDs in the February issue of The Dogwatch. At the risk of unnerving you again, this was not by design, but by chance. While we know that some kids (and adults) should be in life vests 100 percent of the time in some situations (the photo above is a pretty good example of such a situation, given the age of the kid and the absence of lifeline netting), our editorial policy is to not be absolute about it, but consider photos on a case-by-case basis. We're happy to promote the wearing of PFDs (for kids and adults), but there are situations where a kid is okay not wearing a PFD aboard. There are too many factors to make an edict (factors including swimming ability of kid, conditions, water temperature, boat size). We would balk at publishing a photo of a kid who appeared to be recklessly unprotected, but we're not going to say "no photos of kids not wearing PFDs."  –Eds.
---
DOCKING SENSE
I read your tongue-in-cheek mention of Raymarine's newest product, DockSense, in the February issue of The Dogwatch. I singlehand my five-ton, high-freeboard Nonsuch 26 sailboat in and out of a crosswind slip. There's major downwind drift if I go in too slow, too much momentum if I go in fast enough for the keel to bite, and a firm guarantee that the stern will pull 45 degrees hard to starboard if I put too much thrust in reverse. Accordingly, I have the dings to prove that Raymarine is right; docking mishaps happen even to experienced sailors. But considering what Raymarine's solution probably costs, I'd still save money by just buying a duplicate boat, putting it in a slip facing a different direction, and sailing whichever one has the more favorable wind that day.
Ironically, your mention of Raymarine's solution arrived just as I completed my solution (see photo). What you're looking at is an 8-foot piece of scrap wood to which I screwed three rows of 1.5-inch fire hose scalloped into wave patterns. I used 48 feet of fire hose out of a 95-foot roll that I bought at RepurposedMaterialsInc.com/ for $60, shipping included. I used 98 1-inch hex-head screws out of a $9.75 pack of 100 from boltdropper.com. Total cost: about $50. Of course, this doesn't include the value of my time and labor. If I add that in, the total comes to about . . . $50. (I'm retired.)
My plan is to just let the boat hit the bumper as I come in, then slide along it. My expectation is that the fire hose will provide both cushioning and low-friction sliding and won't gouge the hull. I have high hopes.
–Bob Neches
Bob, nice work. We'll add that we've twice picked up used fire hose for free (to use aboard as chafe protection, mostly on anchor rode snubbers). In both cases, we could have taken all we wanted. Next time you're ready for more, just visit a local fire station. We were successful at two California stations: the Woodacre Fire Station in Marin County and the Camarillo Airport Fire Station.  –Eds.
---
ONE MORE SHOUTOUT TO THE DIY BOATYARD
I just read "In Praise of the DIY Boatyard," (The Dogwatch, February 2018). Attention DIY boaters in Southern California: I bought a classic plastic Catalina 30, Silhouette, last summer and I needed a place to put her where I could pull the dead gas motor and install an electric motor. Easier said than done. Private marinas don't like noisy repair work and the few boatyards still open are expensive. But I prevailed. If you're in the Wilmington/Long Beach area, contact Steve Curren at Long Beach Yacht Center (cayachtco.com/). He rents slips by the month and allows DIY boat owners like me to make repairs while the boat's in the water.
–Doug Mears
---
HOBO STOVE 2.0
I wanted to share an update I've made to the hobo stove. Instead of holes on the bottom to allow fresh air to enter and fuel a solid-fuel fire, here I've left the bottom sealed. I pour stove alcohol into the can, light it, and allow it to burn a few moments before I set a pan on the can for cooking. I have only played with this version, but I see it as a viable (and cleaner) camp/cookout burner.
–Jim Shell, Good Old Boat contributor
Readers, to revisit the article describing Jim's handy cooker (great for outdoor marina potlucks or shoreside cooking while at anchor), use this link: audioseastories.com/shoreside-cooking-hack/  –Eds.
---
PRAISE FOR PAYNE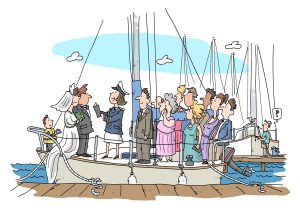 I just received the latest edition of The Dogwatch and aside from everything else, I want to commend the cartoonist who drew the boat-wedding graphic. Well done indeed. Who is the talented individual? Do they have a website of their work?
–John Gilbert, Cone From Away, a 1979 Aloha 28, Owen Sound, Ontario
Tom Payne is the talented illustrator (and we were remiss in not making that credit clear, as we usually do in the print magazine). Tom's great and has worked with Good Old Boat for many years. He's also worked with SAIL and others. But that work is just a footnote in his extensive portfolio of clients. To learn more about Tom and his work, check out payneillustration.com. I'll note that for this piece, we simply sent Tom instructions along the lines of "We need a female captain officiating a wedding on the deck of a good old boat." We particularly love the tear from the older woman on deck, and the ring bearer in a life vest. Check out the March issue of Good Old Boat for more of Tom's work, and also visit Tom's comic site: sandsharkbeach.com/  –Eds.
---
AIRBNB FOR SAILBOATS?
Last month I put it to the readers about boat-sharing services. I asked whether any of you had used these services and whether you thought millenials would go the path of renting sailboats vs. owning sailboats. Will this model take-off and result in more people out on the water, people who want to sail but who don't want to own a sailboat?
Reader Isaiah Laderman made the consensus point in the last sentence of his response. He did it so clearly and succinctly, with a perfect metaphor, that he gets the first word . . . –Eds.
My parents rented a dinghy when I was pre-teen. I doubt I would be a sailor today if they hadn't. But I think the liability of injury, and likelihood of dissent over breakage and wear-and-tear, should give private lessors pause. Also, simply sailing a boat misses the spectrum of experience of owning and maintaining boats, which is surely the more important part. Just as having kids is more important than talking to one occasionally.
–Isaiah Laderman, Molto Tortissimo, a Sea Sprite 23
Interesting question on the increasing ways of getting out on a sailboat. I doubt that I would ever give up the "luxury" of boat ownership, but then I probably spend far more time aboard than the average coastal sailor. For me, it's not only about being out on the water, but also about performing routine maintenance in port. For the years I was between boats, I traded sailing time for maintenance work on a variety of sailboats. Although the sailing and the destinations were the same, the pride of ownership wasn't there and I missed the comfort of knowing every nuance of the boat. I've long been of the mind that being on the water should be an experience of independence, an experience grounded in a very limited expectation of outside assistance. Sailing an unknown boat increases the likelihood that I will be dependent on those resources.
In our part of the world, charter companies are generally reputable organizations with modern well-maintained boats. There are also boat owners that charter their personal boats. Some are good, some not so good. The introduction of an Airbnb-style marine industry would certainly widen choices for those seeking adventure on the water. However, the quality of the boat and knowledge/experience of the skipper would, in my opinion, require significant regulation to prevent chaos on the water during peak season. Unfortunately, such an industry would not do well under self-regulation, the quest for profit would outweigh responsible boat usage. A visit to a local boat repair facility demonstrates that even local boat owners have difficulty staying away from rocks and shoals in our turbulent currents. It's one thing to "rent" a boat in a small, local lake; quite another to be out on the ocean dealing with tides, currents, and large commercial traffic. Insurance for our boat has gone up significantly this year, apparently due to ever-increasing claims. That can only get worse with the introduction of more ad-hoc charter facilities. I want more people to enjoy the freedom of being out on the water, particularly young people, but that freedom requires knowledge and responsibility. Somehow, I don't think an Airbnb-style marine industry is the safest or the most responsible way of accomplishing this.
–Bert Vermeer, Natasha, Sidney BC
At the American International Yacht Club Berlin, there were about 35 boats we could rent. Costs ranged from 50 cents an hour for a dinghy, to a dollar for Solings, Dragons, and others. It was an inexpensive way to go sailing and served me well until I was able to buy my own boat. The boats were maintained by the harbor staff, but those who took them out were sometimes less careful of them than if they were their own property.
–Hal Shanafield, Hjalmar III, Pearson 32
I'm not certain which is the more likely forecast, that emerging generations will rent rather than own and therefore the rental market will boom, or that the number of people who know how to sail will shrink and bring down both the ownership and rental markets.
–Sam Goldblatt
I want to know my boat. I want to know how the radio works, where the PFDs are, whether the rigging is intact and durable, how to manage the engine, where the tools are, how to turn the lights on, where the horn is, where the through-hulls are located, and how the boat reacts to winds, seas, and my actions in steering and sail trimming. If I need an extra clevis pin, where are they (and are they there?). If I think it's time to don a harness, where is it, and its tether? If I need to drop anchor right now, is it secured to the rode? (Don't laugh, this is the voice of sad experience speaking).
My point is that boats are like underwear; they're not easy to share successfully. It's fun to sail on other people's boats, but it's not the same as sailing on my own. I always feel like a neophyte on other people's boats. "Get the boathook!" and I think, gee where is it? "Turn on the spreader lights!" Darn, where's that panel? "Ease the topping lift!" @#$*!!!, which cleat is it belayed on? On my boats, I know where things are. I know how the boat behaves. I know what can be relied on, what's shaky, and what's not working.
And for a guy who's not generally obsessed with order, my boats are the places where everything has its place. Important stuff is where it's supposed to be, and I never need to conduct a search to locate it. In fact, finding stuff is a big headache when sailing as crew aboard a local historic schooner. Knowing what stuff is aboard that boat, and where that stuff is, is a constant challenge because everybody decides where to leave the wrench or the seizing twine.
Maybe if I went sailing as infrequently as I go bowling, renting or sharing would make sense. But I sail a lot and I'd rather not face a steep learning curve each time.
Besides, my boats are my old friends. I've sailed one for 51 seasons so far and another for 20. I've spent many hours working on each boat and that makes for a sort of investment that goes beyond dollars.
–Chris Campbell, Traverse City, Michigan
My sailing mentor, who resides in Virginia, lives by the philosophy, "If it floats or flies, rent it." While he and I, who are both in our mid-70s, along with our better halves, have spent many a happy hour on bareboat charters in the Caribbean, I reside on the Left Coast, where it is possible to sail every month of the year. I prefer to own my sailboat, which presently is the 1980 Newport 30, Erewhon, a good old boat of Gary Mull design from the mid-70s. Not only has she provided a near-perfect venue for maritime outings throughout the San Francisco Bay area with family and friends over the past three years that we've owned her, she is also the perfect man cave, the place to hang out when I need relief from the madding crowd. I think the best sail plan for me is to sail my own boat locally and rent when I wish to explore distant waters that can best be reached at 550 mph in a jetliner.
–Bill Crowley, Glen Cove Marina, Vallejo, California
[In weighing and considering the monetary cost of boat ownership to make] a judgment in this regard, do not count only the hours you are sailing your boat, include the hours that you spend thinking of your boat.
–John Davies
John, great point, and it reminds us of Don Davies' (we presume no relation) great article, "The Cost of Sailing," that was published in the June 2018 issue of The Dogwatch. For anyone who missed it the first time: https://goodoldboat.com/fs_cost_june18/  –Eds
My wife and I are the sort-of in-between generation, not fitting in with genX and just at the beginning of the generally-accepted range for millennials. We started off buying boatloads (hah) of music CDs and purchased our movies and video games on DVDs. We own our home and ground-based transportation. Over the past 15 years or so, we migrated first to buying music through services like iTunes, and now generally consume our music via streaming services. We read a lot, and while we both use electronic readers, we also both prefer to buy a lot of our books in paper form. So, we've been a little mixed in our approach to these things, changing our access methods as the technology grows and becomes accessible.
When the sailing bug bit, we had a Flying Scot dinghy for a time, later moving on to a Hobie Getaway beach cat that we've sailed for the past few years. In December we became owners of our first (and quite possibly our only) cruising sailboat, in the form of a Ted Brewer-designed Jason 35.
Several nearby state parks offer kayak rentals, but renting requires that we fit into the rental concession's schedule. When we go bike riding, we like to make a day of it, and enjoy stopping along the trails to have a snack, watch nature, or just relax in a shady spot. We want the same flexibility when kayaking, so we bought. Our kayaks were not inexpensive, but within the first two years of owning them we probably saved what we paid for them in funds that didn't go to rentals.
Nobody in our area (to our knowledge) offers sailboat rentals, and that's what led to us buying the aging but capable Flying Scot. The state park dry moorings are inexpensive, and total cost of ownership was low. Our recent move to a cruising sailboat is a big jump in TCO (total cost of ownership), but we expect to make even more use of it than we did of our little beach cat. In a way, it will be to us like a floating summer cabin, where we plan to spend many weekends over the boating season sailing, kayaking, biking, and sometimes just enjoying a good book and a rainstorm from the comfort of the saloon.
Would that be possible if we were renting a boat? Perhaps, but it wouldn't have the same character. If we were renting a boat, we would feel more obligated to go somewhere on it while we were paying for it, which could lead to making poor decisions with regard to weather. Would we rent it for a weekend that was supposed to be rainy and chilly with little useful wind? Maybe not. That, however, might not even be a choice, as we probably would have had to rent it well in advance to get it for a weekend anyway.
Would rental programs help more people to get on the water in our area? I suppose for the right people. Had there been a rental option in our area when I was first getting started, I might have made use of it before making the decision to buy, but I still think I would prefer to own boats instead of renting them.
In the end, I'm not at all sorry that we're owners. Like with our home, I look forward to the projects to improve her, make her our own, and keep her up in a condition that I hope will make her builder proud. My wife and I look forward to spending quality time on the Jason 35, enjoying the sailing, the water, and the reading. Some of those goals would not be a consideration if we were renting when we wanted to be out on the water. Ownership isn't for every sailor, but I think it adds a richness to the experience that is hard to match.
–Jonathan Woytek
---