New sailors outfit an old boat for a future of adventures.
My husband, David, and I have always loved the outdoors and water. We have been avid sea-kayakers and snorkelers. We have owned powerboats, but we tire easily of going up and down a river and filling a fuel tank. For decades, David has wanted a sailboat but was turned off by the prices of new sailboats. But with retirement around the corner, his urge to own a sailboat became a priority. So, for our 36th wedding anniversary, I surprised him with a 25-year-old 1990 MacGregor 26D — it's the first sailboat we've ever owned. But I didn't choose it.
David delivers for a trucking company. On one of his runs, he noticed the MacGregor for sale outside a house near DeKalb, Illinois. He stopped to look at it, but the owner wasn't home. I figured he'd forget about it. I was wrong. A few weeks later, David said he'd seen the boat and wanted me to see it. All I could see was a dirty boat with water leaking into all her storage compartments and lockers. Then David told me how much fun it would be to teach our grandkids to sail.
In addition to using Seabreeze as a grandchild sail-training vessel in our retirement, we planned to enjoy long sailing trips. Both these goals meant we needed to make our boat safe and comfortable. We still had much to learn, so David contacted a local sailing club for help. That's how we met Good Old Boat contributing editor Allen Penticoff.
It just so happened that Allen is a sailing instructor and also owns a Macgregor 26D. He took us out for a weekend and taught us the basics of how to sail one. Everything aboard Seabreeze was original, and Allen recommended many changes and upgrades. We had a lot to do. 
Cleanup
Our beautiful boat was yellowed, chalky, and covered with bird-poop stains. Streaks of rust highlighted the many fittings that had been installed with non-stainless-steel screws and bolts. While David worked on repairs, I attacked the yellow and grime and rust with every product ever made. And we replaced all the fasteners with quality stainless steel fasteners.
We degreased the outboard motor and painted it with motor paint from a local boat shop. When we applied original stickers we found on eBay for $8, it looked almost like new.
Finding leaks
One of our top priorities was to make Seabreeze watertight. We discovered that rainwater was entering the cabin around the screws under the old and brittle rubrail. After removing the rubrail, we rebedded all the screws with silicone and installed new rubrail. (Hint: it takes two people to install new rubrail, one pulling and working it into the groove and one using a heat gun to keep it flexible enough.)
Another source of leaks was the cracked hose on the cockpit drain, which kept storage areas below it wet and ripe for mold. Replacing this hose was simple, but that wasn't the end of the leaks, so we kept searching. Ultimately, removing and rebedding all the chainplates and stanchions finally gave us a dry cabin.
Lifelines
Because I'm relatively short, I don't find it easy to climb over the lifelines when boarding the boat or to make the sometimes necessary leap onto the dock. So we replaced the lifelines and terminated their aft ends with pelican hooks that I can easily open to drop the lifelines and resecure them.
Electrical
With our sights set on sailing the Kentucky lakes or Florida Keys for weeks at a time without having to pay for a berth every night just to plug in and charge our batteries, we needed more power on board. I like to play my iPod through a Bose speaker, and we planned to install cabin fans. We would also need power for charging iPads and phones, and perhaps to run a portable DVD player so we could watch movies on rainy nights.
Our first step toward increasing our available power was to reduce consumption. We changed all the interior and navigation lights to LEDs.
We also looked into using solar panels or a wind generator. Wind generators require too much maintenance and have a reputation for being noisy, so we decided to go with two 40-watt solar panels, a controller, and a meter. With this charging capability, we find that we can go out for three or four days, run all our power-consuming devices, and still come back with fully charged batteries. And we can even walk on our panels, as they're flexible and not slippery. 
Water
We knew we would need to carry water aboard for washing up and doing dishes. Dave came up with the idea to install two 5-gallon jerrycans on the V-berth aft bulkhead and plumb them to the hand pump at the galley sink. The jerrycans are easy to fill, and if we are watching our weight, we can take one out.
Sails
Allen strongly recommended we replace the decades-old original sails, which had lost all their stiffness and shape. I wanted to make sure the replacement sails were the right ones. In this respect, Blue Water Yachts in Washington state was a godsend. They have everything MacGregor. So, for Dave's birthday, I ordered him a new mainsail, genoa, and spinnaker. The new sails made a huge difference in Seabreeze's performance.
The only place we had to stow sails we weren't using was the V-berth, but they left little room for the grandkids to sleep. To solve this problem, Dave installed a removable hammock. It raises the sails above the bed, leaving plenty of sleeping room beneath them.
Cockpit shade
Although I love the wind in my hair and the sun on my face, as a fair-skinned blonde, I burn to a crisp in no time flat. On our second day out sailing, the air temperature was 98 degrees and even using sunscreen I just fried. I was so sick with heat stroke that I had chills and was shaking on the drive home. We ordered a bimini designed for the MacGregor 26.
Interior
We ordered cloth shades for privacy in the forward sleeping area and to cover the portlights in the cabin sides. To make the cabin more comfortable, we wanted new settee cushions. We took the old ones apart; using them as patterns, a local upholstery shop produced beautiful cabin cushions with vinyl sides and backs.

Refrigeration
We did our research and found Orca coolers that claim to keep ice for 10 to 14 days. We tested ours on a four-day trip. We left with food, frozen water bottles, and half a small bag of ice. We opened the cooler to take out meals, snacks, and cold water to drink. When we returned, it still held ice and the water bottles were still frozen.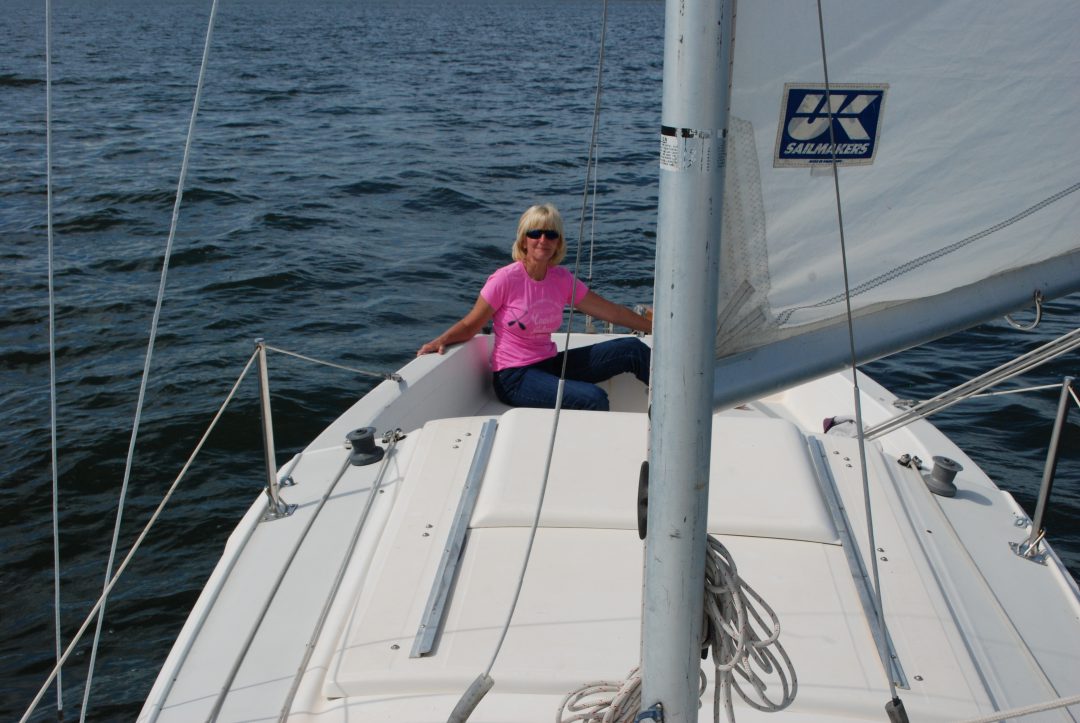 We know now that finding Seabreeze was meant to be. We look forward to years of adventures aboard her, with our grandkids and friends.
Resources
Part of the boat owner's learning curve is discovering useful products and helpful services. Here are some that Carol and David found.