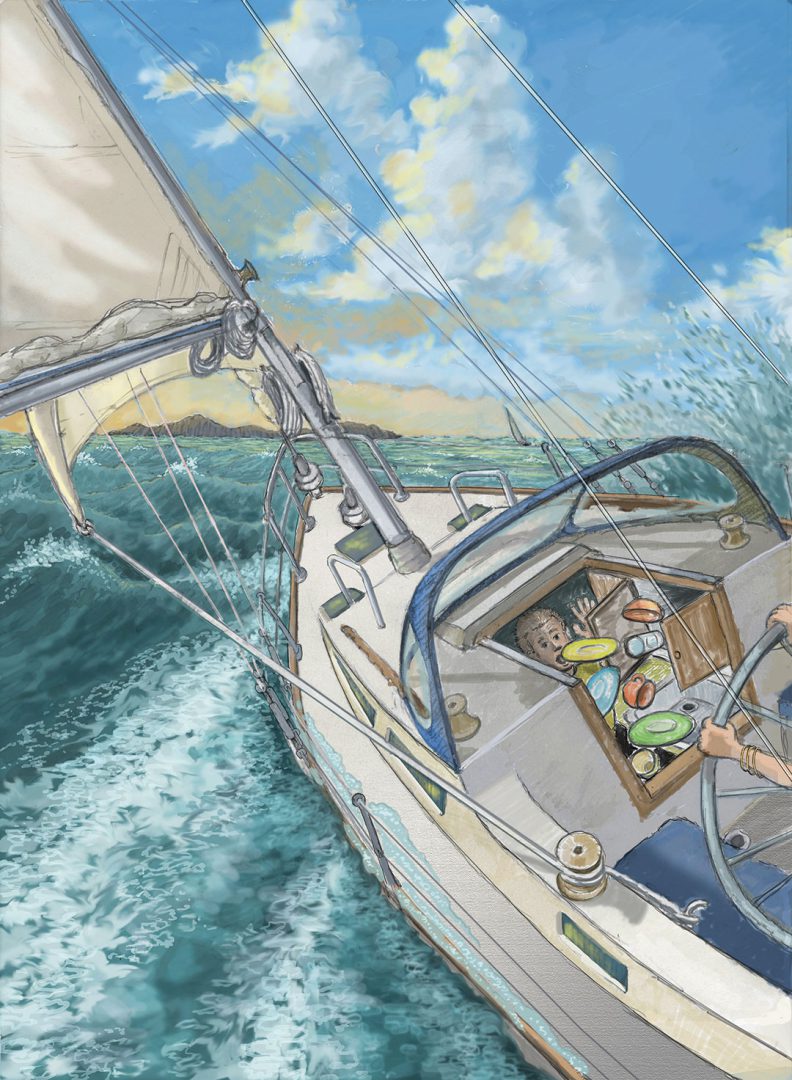 A problematic first passage provides abundant lessons learned.
People often transition from smaller boats to bigger boats, but our jump from a 21-foot trailer-sailer to Roam, a 1984 Moody 47 that we hoped would take our family on a remarkable voyage, was a big one.
I remember when my wife, Erin, and I saw Roam for the first time in the Caribbean yard after she became ours. I pounded my fist against the 5-ton keel that stood as high as my head and thought, "How on earth are we going to sail this thing?"
When we finally splashed, we were so daunted that we asked a friend to help us pick up our first mooring buoy. After a month or so of practicing motoring, mooring, and anchoring, and with about 15 miles of sailing Roam under our belts, our family planned a 40-mile sail to the neighboring island of Carriacou, in the company of a buddy boat sailed by a young couple who had taken us under their wing. This was to be our longest passage ever, on any boat, not a great stretch, although it felt that way to us.
When we got underway at 10 a.m., the weather was fine, and our spirits were high. But as is typical in the Caribbean, leaving the wind shadow of Grenada left us exposed, and 25 knots of wind slammed us on the beam. Under full sail, Roam buried her rail, spilling the contents of every windward-side cupboard down below.
I quickly eased the headsail sheet and then used the winch to bring in some furling line, wrangling in the sail and regaining some control. Then I went forward to the mast where I could use our slab reefing system to shorten the mainsail. With Erin at the helm, relieving pressure on the main, I was able to take in two reefs pretty smoothly. But I was jacked up on adrenaline, and when I returned to the cockpit, my arms were like jelly.
Then, after settling back down, another problem: When we resumed course, we noticed an exclusion zone on the chart, right on our path. We had to avoid it; this was Kick 'em Jenny, an active, underwater volcano well known in this part of the Caribbean. But when we adjusted course to pass safely clear, our angle was poor for sailing, so we added the engine to keep us moving toward our destination.
By this time, large afternoon squalls had formed around us, the sun was getting low in the sky, and we were anxious about making the anchorage before dark. The sail hadn't been a success to this point, and we were a bit shaken. Our buddy boat was still ahead of us and we plugged on.
A couple hours after we started it, the engine died. The seas had grown all day, and now we rolled, compounding the mess below and making me think twice about removing the large engine covers to investigate the problem. Besides, I didn't have a lot of experience with this motor yet and wouldn't have known where to start. But I didn't panic. We were a sailboat; we could sail on. Nobody was hurt, no storm was bearing down on us, we would manage.
We radioed our friends to let them know our status. They expressed confidence we could sail Roam into the anchorage and drop anchor under sail. With the sun now setting, I figured we had no choice and we resolved to give it a shot.
By the time we reached the entrance to the bay, we were sailing in darkness for the first time aboard a boat we owned and commanded. When everything turned black, the reality set in: Darkness was a game changer. It made us nervous and acutely aware of our experience level. We realized now that our egos had gotten the better of us in the daylight. On our left now, I could make out rocks, to our right, cliffs.
We sailed on, but it soon became clear that we were out of our league. Our friends, who'd stayed in touch with us on the radio, picked up on our growing trepidation. They finally told us to stay put, that they were pulling up anchor to motor out and tow us in.
Staying put proved difficult. Under just the staysail, Erin held a steady course, headed slowly for the cliffs.
When our friends arrived, I clipped a tether on (I was still in my life vest) and went forward to reach out into the darkness, trying to catch the line they threw us. On the first attempt, Erin accidentally turned the bow through the wind and we nearly rammed our buddy boat. Desperate and frazzled, Erin in tears, we made a second attempt.
To this day, I don't know how the captain of our buddy boat threw that tow rope so far, how I managed to catch it and quickly fasten it, or how Erin held us so steady, but we did it. As I caught the line, I remember our friend yelling at me to, "Tie a knot that you can undo under tension!" I shouted back that I knew only one knot, and I nailed the bowline in record time.
Once towed safely into the anchorage, we dropped our Rocna, hoped it would set, and collapsed into a heap of hugs and tears all around.
Sailing can be everything from deliriously fun to horrifically scary. I quickly learned that no matter how much planning, preparation, or praying I do, things happen. I've learned that when my mindset is one of problem-solving, as opposed to problem-accepting, anything is possible. Only 12 months after this first 40 miles, my young family and I crossed the Atlantic Ocean, a 2,500-mile, 17-day passage. If we had let this setback or the many other mishaps that came our way dampen our spirits, we never would have accomplished this.
There is nothing to be gained from beating oneself up for mistakes made, but we can learn from the experience, share what we can, and move on to the next challenge. Perhaps the best thing we learned from our experience is that the sailing community is never quick to judge newbies, as everyone has been there before!
The Takeaway
Our first 40-mile sail wasn't smooth or pleasant, but it's one we completed and one that offered a ton of lessons and opportunities to grow our sailing experience.
Fortunately, we didn't do everything wrong on this passage. We wore PFDs and tethers when we thought they were appropriate. We called for help when we decided that sailing into the anchorage after dark, when we were physically and emotionally drained, was unwise and perhaps beyond our abilities.
Erin and I communicated effectively throughout the passage and worked as a team, supporting each other. We kept our cool when things were stressful so that the kids (safe and happy down below for nearly all of the trip) wouldn't pick up on our fear and make it their own. We noted and avoided the exclusion zone on the chart. This proved wise as we later learned that Kick 'em Jenny, which rises 4,000 feet above the sea floor, regularly spews enough gases to fill the water with so many bubbles that boats lose buoyancy and sink!
Unfortunately, we had a lot still to learn when we cast off that day, beginning with preparation. In terms of general seamanship and judgment, we were ready for this first big sail, and I don't think it was a mistake to cast off. But we didn't heed our own good judgment from the start. We wanted to leave earlier to make sure we could reach the anchorage before dark, allowing plenty of buffer time. But we didn't, instead waiting for our buddy boat, which sailed much faster than we could.
I should have been more familiar with our engine before leaving (including how to safely access the engine underway). It turned out that the engine died because a loose belt was slipping and consequently not turning the freshwater pump, causing the engine to overheat. Checking belt tension and knowing how to access and fix this problem underway is now second nature.
I also should have learned about local weather patterns; we should not have been caught off guard by the sudden increase in wind when we left the island's wind shadow. Likewise, I should have examined the chart more closely to note Kick 'em Jenny's exclusion zone and considered whether it would affect our course.
On this sail, we learned that the cupboard latches down below weren't up to the task and later reinforced them, but we also discovered stowage problems of our own making. I'd secured our spare LPG tank with undersized cordage, and it worked its way loose and banged on the aft deck all day long. I'd also not adequately secured our new inflatable dinghy, and it swung on the davits, resulting in damaging chafe.
This story isn't about what we should have done differently, but what can be learned from what we did do, and what we did learn. I think on that last point, we excelled. We processed these lessons, moved on, and continue to learn from our mistakes—only we're doing something right these days because mistakes no longer seem to come all at once.
Wiser for the lessons he and Erin learned on this sail, David Carey, his wife, Erin, and their three kids went on to sail their 1984 Moody 47, Roam, throughout the Caribbean's Windward and Leeward islands before they crossed the Atlantic Ocean in 2019 and landed in the Azores.