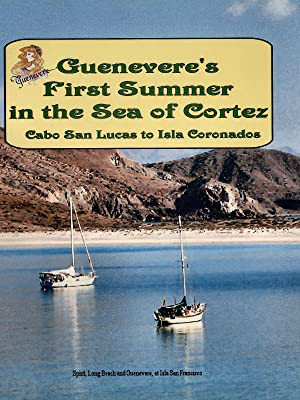 What's new? DVDs of sailors' cruises seem to be the latest thing showing up in the Good Old Boat office. There's a trend here. More people are publishing their own books (books-on-demand technology). More people are producing their own radio shows (podcasts). More people are publishing their own opinions (blogs). More people are distributing their own music and audiobooks, such as the Good Old Boat audiobooks (using MP3). And more people are creating and releasing their own movies (on DVDs).
In the last month we've received DVDs from a couple cruising the West Coast from San Francisco to the Sea of Cortez, and a solo sailor who crossed the Atlantic from South Africa to the Virgin Islands. We're aware of more on the way. This is just the beginning.
Heading south on the West Coast, While they were preparing for a retirement spent chasing the distant horizon, Greg and Jill Delezynski and their Nor'Sea 27 were featured in the November 2002 issue of Good Old Boat. Greg also wrote and published four or five articles about the projects he completed on Guenevere, the Nor'Sea 27. Then one day they stopped talking and writing about it and started living it. They untied the docklines and went south to Cabo San Lucas at the tip of the Baja Peninsula and north into the Sea of Cortez.
Just because they weren't sending articles our way, however, didn't mean they weren't busy out there. Greg had discovered the exciting potential of video recorders and decided to take the rest of us (family, friends, and fellow cruisers) along with them as these two lived their dream. Now they have published the first two of what is likely to become a full set of DVDs on our shelf: part video adventure, part cruising guide, and part commentary about the cruising life.
The titles of the DVDs tell you the content: Guenevere's West Coast Adventure and Guenevere's First Summer in the Sea of Cortez. The first covers nautical miles 0 to 1,559, ending, as you'd expect, at the bottom of the Baja Peninsula. The second covers miles 1,559 to 2,198, and covers their explorations of the Sea of Cortez, and there's much left to be seen. Further videos will be forthcoming. Count on it.
If you have ever wanted to know what the trip down the West Coast is like, Greg and Jill fill you in on the details in a most pleasant and professional way. We were so impressed with the quality of these first two productions that we've asked Greg to write another article for Good Old Boat: one telling the rest of us how to make DVDs of our own cruising experiences.
Guenevere's First Summer in the Sea of Cortez: Cabo San Lucas to Isla Coronados on DVD, by Greg and Jill Delezynski CustomFlix, 2006; 88 minutes)