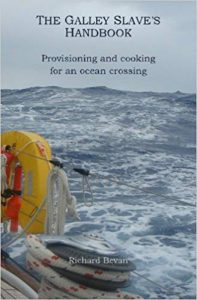 BY RICHARD BEVAN (CHANGESTART PRESS, 2010; 136 PAGES; $9.95).
REVIEW BY SUSAN LYNN KINGSBURY, PORT 
Captain Charlie Tongue was looking for the "fresh perspective of a first-timer" when he asked Richard Bevan to take charge of the provisioning, manage the cooking, and write a blog while crewing onboard the Neroli of Fowey, a 1999 Hallberg Rassey 42. Bevan accepted the challenge to voyage from St Lucia to the Azores in May and June 2010 and shares all that he learned during that ocean crossing in The Galley Slave's Handbook.