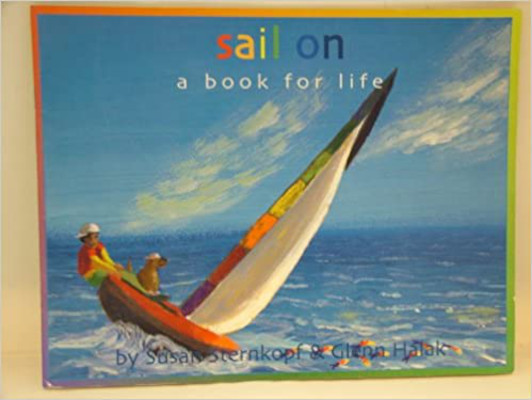 With this new book, author Susan Sternkopf and illustrator Glenn Halak teach children (and their adult friends) the facts of life. But wait! This colorful book is not about reproduction – it's about having a positive attitude in the face of adversity, about appreciating the beauty that surrounds us, about the realization that life will have its ups and downs.
Sailing makes a good metaphor for a lifetime of smooth and rough experiences, pleasure and discomfort, hope and fear. An example: "You can count on a few hard knocks, you'll be pushed back by wind and tide. You'll learn to take it all in stride . . . sail on."
Susan Sternkopf is a Colorado elementary-school teacher who has developed sailing programs for children with a focus not so much on racing as on building self-reliance, sportsmanship, and a love of wind and water. She believes these lessons can guide children through tough times. With simple and charming rhymes illustrated by bold and colorful strokes, Sail On is a lovely reminder to all of us about the true facts of life.
Sail On: A Book for Life by Susan Sternkopf with Illustrations by Glenn Halak (Sternkopf and Halak Publishers, 2000; 16 pages)