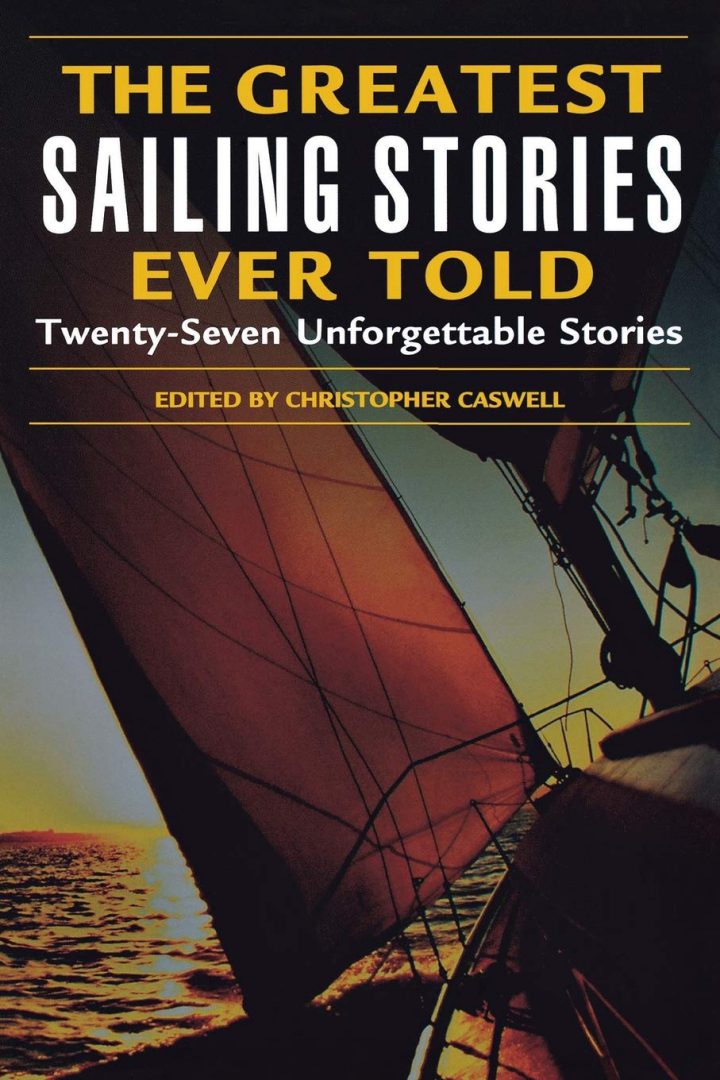 As the title makes clear, this is a book of 27 unforgettable stories. Having just read this book, I realize I've already forgotten most of them. Then again, my rusty old brain does not remember things all that well… now where did I leave my phone?
Nonetheless, while reading, I did find all the stories interesting and entertaining. No surprise, the stories are written by the likes of James Thurber, William F. Buckley Jr., Ann Davidson, Samuel Eliot Morrison, Joshua Slocum, E.B. White, Sterling Hayden, Ernest Shackleton, Tristan Jones, Peter Goss, David Kasanof, C.S. Forester, Cleveland Armor, Weston Martyr, Ernest K. Gann, and many more. Impressive, and each is offered as a sample of more that each author could provide.
In this single anthology, I found an opportunity to get a feel for this wide range of sailing writers, their styles. Their stories cover the range of single-handed circumnavigations to the masthead experience of a clipper ship under full sail.
Caswell introduces each new story with a brief background of the author and a sneak peek into the tale to come. The single longest story (38 pages) is by Sir Ernest Shackelton, from his book South, wherein he describes sailing a small ship's boat from Antarctica to South Georgia. Perhaps on the other end of the spectrum, I was delighted by the discovery of E. B. White's (author of Stuart Little and Charlotte's Web) passion for small-boat sailing. I love the following passage from his 1963 book, The Sea and the Wind That Blows. I think most Good Old Boat readers will see themselves in this too.
"If a man must be obsessed by something, I suppose a boat is as good as anything, perhaps a bit better than most. A small sailing craft is not only beautiful, it is seductive and full of strange promise and the hint of trouble. If it happens to be an auxiliary cruising boat, it is without question the most compact and ingenious arrangement for living ever devised by the restless mind of man—a home that is stable without being stationary, shaped less like a box than like a fish or a bird or a girl, and in which the homeowner can remove his daily affairs as far from shore as he has the nerve to take them, close-hauled or running free—parlor, bedroom, and bath, suspended and alive.
"Men who ache all over for tidiness and compactness in their lives often find relief for their pain in the cabin of a thirty-foot sailboat at anchor in a sheltered cove. Here the sprawling panoply of The Home is compressed in orderly miniature and liquid delirium, suspended between the bottom of the sea and the top of the sky, ready to move on in the morning by the miracle of canvas and the witchcraft of rope. It is small wonder that men hold boats in the secret place of their mind, almost from cradle to grave."
Wow. This and many more sailing reflections are to be found in this compact quick read. Oh, and if you've forgotten any of these stories, read them again.
The Greatest Sailing Stories Ever Told, Twenty-Seven Unforgettable Stories, Edited by Christopher Caswell (Lyons Press, 2004)