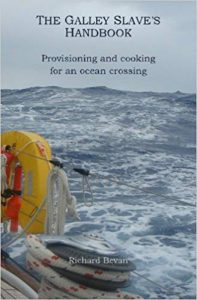 Captain Charlie Tongue was looking for the "fresh perspective of a first-timer" when he asked Richard Bevan to take charge of the provisioning, manage the cooking, and write a blog while crewing onboard the Neroli of Fowey, a 1999 Hallberg Rassey 42. Bevan accepted the challenge to voyage from St Lucia to the Azores in May and June 2010 and shares all that he learned during that ocean crossing in The Galley Slave's Handbook.
Bevan, formerly a weekend sailor, doesn't call himself an expert; however, he learned a lot from the project and shares his wealth of knowledge in a very organized and thorough manner.
Sections in the book cover:
Basic food needs and emergency supplies
Meal plans — with fresh, frozen, or packaged ingredients
Storage guidelines
Provisioning list
Cooking at sea
Landfall (meals)
Recipes for freezing, fresh ingredients, packaged ingredients, emergency dishes, bread, pasta, rice, etc.
Afterword: Reflections from the Captain
The author advises readers in each section how to plan enough meals, as well as how to plan for unplanned circumstances, based on both their own experience and circumstances. For example, his planned meals included the use of fresh, frozen, and packaged ingredients. Some vessels may not have freezers/refrigerators but may have ice boxes and coolers. Additionally, some sailors would prefer to keep it simple and use more packaged meals. The key to his plan is its flexibility — you can adjust it depending on your needs and preferences.
Bevan kept track of supplies using entries in a blog. Additionally, he used an actual spreadsheet to plan meals and make Neroli of Fowey's provisioning list. Being organized, and having enough emergency meals on hand, came in handy when their vessel's generator failed and refrigeration was no longer available.
Included recipes are simplified "recognizing that they may be used under challenging conditions." Quite a variety of recipes are provided, from pancakes to chicken chili and risotto to baked ham with vegetables. Add your own recipes, or use those provided. The author recommends, however, that any recipes be tested first on shore.
Readers will want to make sure to read the section titled Guidelines to Storage. Valuable information is provided about which fruits and vegetables last longest, whether to buy green or ripe, or even whether to bring them onboard at all. Reading further, readers will find out which ones can be stored together and which ones should be kept separate.
The Galley Slave's Handbook is a combination "How-to" book and cookbook. Whether you are going on a coastal cruise, or an ocean crossing, Bevan's provisioning tips and guidelines are worth considering, making it an excellent read for experienced boaters and novices alike.
The Galley Slave's Handbook: Provisioning and Cooking for an Ocean Crossing by Richard Bevan (Changestart Press, 2019, 136 pages)