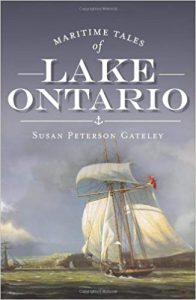 Susan Peterson Gateley has written a jewel of a book for history buffs with maritime leanings. In the author's words, Maritime Tales of Lake Ontario is a "collection of historic incidents and personalities who once worked on and by the waters of this Great Lake between 1728 and the present." An abundance of pictures and illustrations accompany this well written and meticulously researched history of Lake Ontario, as Susan brings past ages to life.
This rich history of the lake's nautical past features chapters on the naval activity of the 19th century wars fought on the lake, shipwrecks during the age of sail, larger-than-life lake mariners, and a look at 50 years of the St. Lawrence Seaway as seen from a maritime and ecological perspective. Her tales of notable sailors include fascinating portraits of "bold-hearted women" who voyaged upon Lake Ontario.
Susan, who has a 100-ton inland waters and Great Lakes Coast Guard license, has sailed Lake Ontario extensively. She has a background in science and, before taking up writing and publishing, worked as a fisheries biologist and a high school science teacher. She has five other books in print at this time, including The Edge Walker's Guide to Lake Ontario Beach Combing, which contains information on lakeshore geology, wildlife, and seasonal focal points for hikers, beachcombers, and canoeists. Since 1995, Susan Peterson Gateley has published five nonfiction books on sailing and ecology of the lake, definitely making her the go-to person when it comes to knowledge of this Great Lake!
Maritime Tales of Lake Ontario by Susan Peterson Gateley (The History Press, 2012; 128 pages)