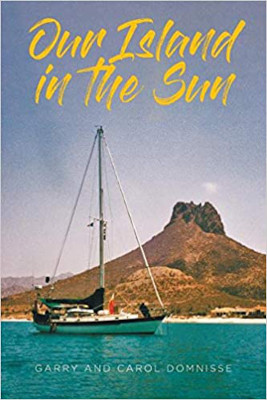 Hundreds of cruisers have sailed from California down the coast of Mexico. Few have been as prepared as Garry and Carol Domnisse. Garry spent 30 years in the U.S. Coast Guard. Carol is a registered nurse. Both are enthusiastic sailors and amateur radio operators. They met, married, retired, and set off on an adventure described in their book, Our Island in the Sun.
Garry and Carol sailed from Long Beach in April 1996 in Yellow Rose, a Valiant 40. Their plan to sail to Hawaii and Alaska was squelched after 100 miles by bad weather in the Pacific. Instead they headed south, exploring Baja and the Gulf of California before sailing to Puerto Vallarta and Acapulco. They went on to Guatemala, El Salvador, Nicaragua, and Costa Rica before passing through the Panama Canal and on to the Yucatan Peninsula and finishing the trip at Key West.
Along the way they delighted in the pleasures of cruising: enjoying the villages, villagers, and delicious exotic food of the Central American coast; discovering a lovely resort in Drakes Bay, Costa Rica, that you can't get to from here; and passing through the engineering wonder that is the Panama Canal.
They also experienced the usual tribulations of living aboard a boat: checking into ports not set up to handle private yachts and trying to find parts in third-world countries (a trip to obtain a new heat exchanger ends with "the taxi ride from hell"). They also had to deal with winds in the Gulf of Tehuantepec that went from calm, to cat's paws, to 40 knots in less than 10 minutes!
The book is a large-format paperback, with quite a few photographs and lots of charts. The charts are a disappointment. Reproduced in black and white, the scale is too small to give a feel for the distances and locations traveled, and the lettering is too small to be legible. The result is a series of anonymous blobs of coastline with course lines. I would have preferred fewer, larger-scale charts with dates, courses, and locations clearly overprinted. I would also have liked a fuller description about the repairs Yellow Rose needed and more information on the outfitting and provisioning Gerry and Carol did before they set off.
A sailor contemplating a cruise along the west coast of Mexico and Central America will find solid information in this book concerning weather, anchorages, and things to see and do.
Our Island in the Sun by Garry and Carol Domnisse (Trafford Publishing, 2003; 425 pages)