DRONE LEGALITY
You asked about reader experience with drones ("Put It to the Readers," The Dogwatch, September 2018). I can say that launching a drone from a boat under sail is not easy, because of wind variations and the rigging. Doing so is possible with one of the more powerful machines, but these units are costly, and the likelihood of losing it when attempting to land on the boat under sail, is high. As a newbie drone operator, I wouldn't risk losing a $700 machine for a few good shots or a video. Also, drone regulations are also very restrictive for commercial purposes. For example, I cannot sell you pictures I have taken from aboard Britannia because I don't have a commercial drone license. I don't think I could even employ a commercial pilot, buy the photos they took legally, and then legally re-sell the pictures to you.
–Roger Hughes, Good Old Boat contributor
Hi Roger, thanks for your thoughts on drones. You prompted us to do some research and here's what we learned. Commercial drone (or small unmanned aircraft system, or sUAS) use is governed by the FAA and all rules and regulations (there are surprisingly few) are covered by the Federal Aviation Regulations (FARs) part 107. These are straightforward. Part 107 mandates that commercial operators have a license, but getting a license is as easy as passing a written exam at one of the more than 700 testing centers in the US and paying a $150 fee. That's it, then you're a commercial drone pilot. That said, we at Good Old Boat are of the untested, unqualified legal opinion that if you were to take a stellar photo as a recreational (non-commercial) drone operator and then sell it to Good Old Boat or another magazine, you would not be in violation of any law (and regardless, we can't imagine there are drone police checking to be sure that published drone photos were taken by commercial operators). We think the real problem would arise were you stopped while flying and authorities determined that you were flying for commercial purposes without a license. Regarding your concern that you couldn't employ a commercial pilot to take photos that you buy and then resell, we can't imagine there is any regulation prohibiting that. –Eds
THE FALLS OF CLYDE KUDOS
Great article on news of the ship The Falls of Clyde ("Fall and Rise of The Falls Of Clyde," The Dogwatch, December 2018)! For those interested, there are six black-and-white photos of this ship in the book, Pacific Square Riggers: Pictorial History of the Great Windships of Yesteryear (1969, Bonanza Books), by Jim Gibbs. Unfortunately, each photo is relatively small, about 3×4 inches. But they are all of The Falls of Clyde as she was, including images of sailors aboard, the ship under sail, one of her main saloon, one of her in dry dock, a sad one of her sans masts and in use as a petroleum barge in Alaska, and one of her in 1959 in Seattle awaiting tow to Honolulu. The book also includes some copy about the ship.
I always enjoy my issues of Good Old Boat! Keep up the great work!
–John B. (Jack) Severinghaus, Com-Pac 23, Spokane, Washington
FINAL WORD FROM CANADA
I just read Canadian George Kuipers' letter to the editor, regarding the trade dispute between Canada and the U.S. ("Good Old Trade-Trouble Fallout," November 2018). Although I, too, am bewildered and frustrated that friends and allies like Canada are treated worse than North Korea by the president, I believe that the ordinary citizens of both countries are still friends. Good Old Boat is certainly my friend on board during the summertime as well as on the hard during the winter months. What goes on now in small politics will pass and Good Old Boat will continue. For that, I will renew.
–Claudette Paquin, Penetanguishene, Georgian Bay, Ontario
THOREAU NEVER SAILED SOUTHERN CALIFORNIA
Last month we put a question to readers who live in places where weather and frozen water restricts sailing to a seasonal affair. Do you envy the Southern California sailors who can go for a Christmas Day sail most years, or do you pity those who lack the seasons to frame and define their sailing experience? Here is what some of you had to say, starting with Fred Mulligan, who thoughtfully brought Henry David Thoreau into the discussion…
Here are Henry David Thoreau's thoughts related to your question and recorded in his journal on December 5, 1856:
I love the winter with its imprisonment and its cold, for it compels the prisoner to try new fields and new resources. I love to have the river closed up for a season and a pause put to my boating, to be obliged to get my boat in. I will launch it in the spring with so much pleasure. This is an advantage in the point of abstinence and moderation, compared with the seaside boating where the boat ever lies on the shore. I love to have each thing in its season only, and to do without it at all other times.
–Fred Mulligan
I envy the year-round, warm-weather sailors! I live just west of Toronto and my boat goes in the water mid-April and comes back out early November, so I get just over six months on the water. I live on my boat all summer, reluctantly moving off just before haulout. Starting next season, I will move onboard full time so that makes me even more envious!
–Brian Miller, Mississauga, Ontario
There are many days during the long, dull winter here in the northwest that I envy the Southern California sailors' ability to get out on the boat year-round. We could too, if we would put up with the short days and generally inclement weather. Other than die-hard racers, I would say that most sailors in our part of the world put their boats to bed near the end of October and take the tarps off near the end of March. That certainly makes spring a much-anticipated time as the days grow longer and drier. However, the winter months allow uninterrupted time to work on boat projects, whether on board or at home. Deck work must wait until spring, but interior upgrades are possible during the dark days of winter.
As a "fixer" of boats in my spare time, I find the winter months aren't usually long enough — so many projects on various boats to undertake. But don't get me wrong, by this time of the year (with heavy rain falling as I type this) I'm planning next summer's cruise (West coast of Vancouver Island again!) and lining up crew for the various segments. So yes, I envy sailors in parts of the world that are warm year-round, but you can't beat our cruising grounds during our sailing season! The first sail of the year is warmly anticipated!
–Bert Vermeer, Natasha, Sidney, British Columbia
Your question made me think a bit. "Perhaps I've been looking at this the wrong way," I thought. "Maybe Michael is on to something?" But within 30 seconds I was of the same feelings I've had for the last 12 years: "Boy, wouldn't it be great if I could sail all year long and not have to go through all the work of putting my good old boat to bed in the fall and getting her up in the spring."
I bear all the costs that full-year sailors do, but I only get 6 months of sailing (if I'm really lucky). Yes, I would much rather sail all year long.
–Tom Clause, Cleveland, Ohio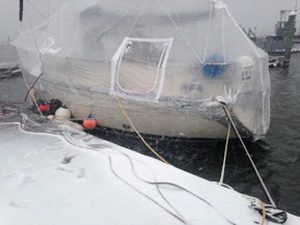 Hahahaha…I've been living aboard my 1983 S2 9.2C since 2012. Two years ago, I moved out here to California from the north shore of Long Island for a new job (I shipped the boat). Do I miss the seasonal transitions? I'd rather sail 365 and never jump off the boat to an icy dock or have condensation on every non-insulated surface of the boat. I love not having to run AC in the summer. I think the cats are thrilled too.
–David Shapiro, Alameda, California
I used to be jealous of the year-round sailing that folks in the southern climates enjoy, but not so anymore. I'm a Great Lakes sailor, so my Catalina 36 comes out of the water in October and goes back in in May. While it is a chore to make the arrangements for haulout, storage, winter cover, winterization of plumbing, etc., I find that the annual cycle means that projects get put off to the fall or spring, and summer is for sailing. I think I enjoy the sailing season more, because I'm not worried about the electronics upgrade or the plumbing repair — it can wait until fall. Plus, I feel that if nothing else, the bottom will get cleaned and painted and the hull will get waxed every year, and I'm not sure that can be said for southern sailors.
–Don Lincoln, 1993 Catalina 36, Nancy Lynn
I've spent my life in the Great Lakes region and I view the winter haulout as normal. In the summer you go sailing; in the winter you and the boat take a rest and you maybe work on some repairs and improvements. It has always been that way.
And we don't have to forsake sailing in the winter completely. Those of us in places where the water turns solid can go iceboating. A sail on good ice in the right wind on a DN iceboat will change your concepts of speed and acceleration.
Having a limited season makes us more serious about going sailing. Samuel Johnson quipped that when a man knows he is to be hanged, "it concentrates the mind wonderfully." Same goes for knowing when your sailing season ends.
Most of us have lives beyond sailing. After a summer filled with as much sailing as can be squeezed in, it can be pleasant to have another season for other activities. I can go to movies, get some more reading done, attend a lecture, and work on other hobby projects. There are boat-related projects too. Right now, I have the Cal 20's mahogany tiller in the shop, waiting for me to give it some new varnish. Maybe this winter I can build a new aluminum spinnaker pole for the Seafarer Polaris to replace the varnished spruce one that's just too delicate for actual use. And as strange as it sounds, the annual spring weekends in the boat barn, sanding, varnishing, painting, and doing other chores has become part of my yearly rhythm.
Downsides to the seasonal pattern? Well, there are the twice-yearly charges for travel hoist and mast crane, plus the winter-storage charges. The Seafarer, with her mahogany trim and spruce spars, lives indoors in the winter, while the Cal 20 is outdoors under a tarp, but both come with a yard bill. Then there are those inevitable East Coast photos of a pretty sloop lying at anchor in a cool cove, with snow falling lightly, and I sigh and wish I were sitting in the snug cabin with the heater warming me. But I have worked on winter projects on our local historic schooner to know how much a fantasy those thoughts are, and how cold it gets.
Seasonal sailing is the price we pay for living on the Great Lakes, our sweetwater inland seas.
–Chris Campbell, Traverse City, Michigan
I have never been a year-round sailor and I have no desire to be one. Putting the boat away and getting it ready for spring are events that I look forward to each year. Getting together with those I haven't seen for months, putting my winter plans into operation, and the general rush I feel when I push off for the first time each year are things the year-round sailor does not experience. I wouldn't change anything!
–Brian Chambers, Lake Michigan
I have always sailed on the Great Lakes and yes, winter haulout is a necessity! The good news is that we take haulout as a serious hobby. The same is true for launch every year. My wife and I go to our boatyard (about 50 miles away) and spend a week enjoying the fine art of "putzing" around the boat. We go over all the systems carefully, we thoroughly clean Quiet Time, and we wax her top to bottom. We change the engine oil and filters prior to haul out. We freshen up the teak work. We may miss her when she's in the barn for winter, but we've only to look out over a frozen lake on which the sun does not rise until 8:30 a.m. and disappears at 5:00 p.m., and we forget all about that Christmas sail!
–Dave Sutton
When I lived in Berlin, I used to sail all winter long, because the Wannsee and the Spree didn't freeze. In Chicago, the harbors close, the lake often freezes, and the weather is awful in general. I think winter sucks, and I envy those who can still sail during those months we are laid up. Fresh water has its advantages, but not when it is hard.
–Hal Shanafield, Pearson 32, Hjalmar III
I don't pity the poor folks who get to sail year-round (given the opportunity, I'd probably jump at the chance to join them), but winter does give me the time to do a few things with the boat that just don't get done when sailing is an option. Winter is also the time to reconcile with a non-sailing significant other and to catch up on all the non-sailing-related jobs around the house that sailing keeps me from. Finally, winter is an excuse to charter a boat someplace exotic for a week or two, something that would be hard to justify if sailing my own boat was an option.
–Gord Phillips, Acadian Yawl, Eurydice, Lord's Cove, New Brunswick
Oh, what a topic dear to my heart. I grew up in Southern California, where sailing was pretty much year-round. Now I keep my boat in Holland, Michigan, where the brave start sailing in April and the rest of us get in the water in May and out by mid-September.
Do I miss sailing in January? Of course. But we can go ice sailing, assuming everything is frozen over. But I acknowledge that's a different kind of sailing, and not for old coggers like me. Talk about cold. And make a mistake and you end up in 36-degree water.
For a time, I thought about keeping a boat in Florida and going on down in the winters to sail, but that's just not practical.
An advantage of our short season and the fresh water is that the boats last longer. Another advantage is that we have wonderful places to go, incredible scenery, friendly people, nice little towns, and most of the motor boaters have some clue as to how to deal with rag-men like us. Being up north means in the middle of the summer we have those wonderfully long warm days.
Bugs are a disadvantage of freshwater sailing. I never had to deal with them in coastal ocean sailing, but in Michigan, I need to stay way offshore or keep the fly swatter handy. Flakey, flukey winds are a problem too. I'll start sailing in 15 knots and an hour later I'm sitting on mirror-flat water with no wind, and another 15 minutes pass and I'm wondering why I didn't reef. My wife wonders why I work so hard at sailing; she remembers Southern California, where, with the exception of the Santa Ana winds once a year, anyone could sail blind.
Also, the mud in our harbors moves around, and I think I know where the banks are, until I find out where they are. It's not unusual for me to run aground at least four times a season. Then there are the squalls, fun doozies that last up to half an hour, with intense lightning. Haven't been hit yet though . . .
And that's the report from Holland, Michigan.
–Carl Heintz, 1986 Catalina 30 tall rig
I am lucky enough to have experienced both all-year sailing and part-year sailing. We sailed on Lake Ontario for several years before we were transferred out to Orange County, California. Then, after only two years (but four boating seasons for us East Coasters), we were sent to New England and have sailed the waters of Narragansett Bay and surrounding areas for the past 20 years.
I think a lot of replies you get may be like mine, prejudiced in favor of the East Coast if you grew up there as I did.
Even though we could sail year-round in California, we were at a loss for destinations other than Catalina and the Channel Islands. Simply sailing parallel to the shore was a little boring. Maybe if we'd landed in San Francisco or San Diego we might have felt differently? When we lived near Lake Ontario, we savored anchoring in rural little bays, with only a few Cormorants to keep us company.
Living in California, I missed the ritual of putting the boat away and the excitement of opening her back up in the Spring. Although we miss the sailing in the winter, the respite does give us a chance to relax and recharge. We use the winter to plan our next summer's adventures. We reacquaint ourselves with the rest of New England, meeting friends for ski weekends and such.
–Vickie Griffin, Squeeze, Portsmouth, Rhode Island
I relish putting up the boat for the winter because then I can concentrate on snow skiing. If I want to sail in the winter, I can go frostbite sailing at the local yacht club or, for hard-water sailing, I can ice boat (try beating 10 to 20 other boats to the mark at 40 knots, that's an adrenaline surge!).
–William C. Winslow, Columnist, Boating Times 
You forgot to mention the Pacific Northwest, where it's cold and wet, but not freezing. The San Juans are beautiful draped in low-hanging clouds. We brave fools still sail year-round (and get primo spots in the State Park marinas), but it's certainly not tropical sailing! On the plus side, we get to know which foulies work well and which ones don't!
–Jeremy Norris, Salish Sea
Jeremy, we didn't forget to mention the Pacific Northwest, we intentionally didn't mention the Pacific Northwest. Because the water isn't hard, and as you wrote, there are plenty of brave fools who sail year-round up there. We were among them in 2012. Only, we found it did provoke a bit of pilothouse envy to be out there in an uncovered cockpit, cold drizzle rolling down our cheeks (or were those tears?) and keeping a brave face and forced smile as we wave at the couple heading past us, snug and dry in sweaters, mugs in their hands. It's all about having the right boat for the location. –Eds.