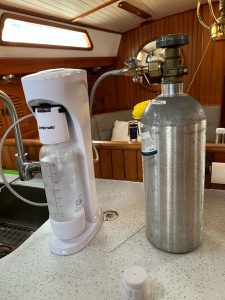 A DIY soda machine satisfies a couple's bubbly water obsession.
We had just pulled into Ketchikan, Alaska, and we were desperate people.
It wasn't the days on end of rainy weather during the weeks-long passage from Seattle, nor the isolation of traveling a remote coastline where cell phone signals were rare and mountains rising straight from the sea all but snuffed out any VHF broad- cast. We weren't desperately low on fresh veggies, despite the scarcity of provisioning options along the famous Inside Passage — although that was a bit closer to the mark.
No, it was that several days past, anchored alone in a breathtaking inlet on our Passport 40, Rounder, the last of the carbon dioxide bubbles had wheezed out of our soda machine. Our sparkling water supply had fallen flat. Somehow, we had survived those harrowing miles on plain drinking water. But as soon as we were settled into our slip at Ketchikan, Deborah was off on a 4.5-mile round trip hike to the one store in town that carried a replacement canister for our soda machine.
OK, maybe we are a little obsessed with sparkling water.
In our defense, when you spend a long time aboard any vessel, the little things that make it feel homey take on an even more important role. Whether it's making a good cup of coffee, warming a chilly bunk, enjoying freshly baked chocolate chip cookies, or sipping a favorite whiskey, creature comforts elevate the entire experience of being afloat.
We happen to enjoy all of the things on the list above. But our obsession with having adequate supplies of bubbly water on the boat goes back many years. And based on our latest summer cruise, we believe we have found our long-term solution.
I can't remember exactly when we started bringing bubbly water on board with us — it must have been more than a decade ago — but I can remember how. It started off with buying 2-liter bottles of bubbled water. Then we discovered the joys of lightly flavored bubbly water in cans, and that soon replaced the plastic bottles, since they stowed better and tasted delicious.
Not only was sparkling water great at keeping us hydrated through the day, but we also soon discovered that it makes a perfect mixer for our favorite rum: no additional sweetener required, just a squeeze of fresh lime and we were all set. That led us to mixing it with rosé wine for a light-alcohol alternative when we wanted to sip a drink at sunset without feeling it the next morning.
The downside to all of this goodness was the ongoing hassle and expense of bringing cases and cases of water down to the boat and finding places to stow it all. Worse still was all the waste we needed to deal with from the quickly emptied bottles or cans. For these reasons, I was motivated to find a better solution for our bubbly water needs while planning our Alaska cruise in 2018.
We are fortunate to have very large water tanks aboard Rounder, and with a whole- house filter installed in our plumbing system, our water stores also taste great. The solution seemed simple — just purchase a SodaStream home soda machine. So we did. Gone was the endless buying and schlepping cases of water to the boat, the countless empty cans filling our recycling bin. Problem solved, right?
But then, as noted above, we discovered the downside to a soda maker. You need to carry a stash of those small, expensive CO₂ bottles or you run the risk of running out. On our return from Alaska that summer, I started doing more research on how we might be able to build a better, more reliable system. That led to our next iteration.
If you brew your own beer, this won't come as a surprise, but it turns out that it is pretty easy to purchase 5- or even 10-pound tanks of food-grade CO₂. I then just needed to buy a few additional pieces — a pressure regulator to connect to the tank and appropriate tubing with a ball lock assembly at one end to connect to a carbonation cap that fits on any standard 1- or 2-liter plastic bottle from the grocery store. I bought the equipment on Amazon for about $70 and the tank from our local gas and welding supplier. Voila! We could now carbonate our water without using a SodaStream and its necessary CO₂ canisters. When the new, larger tank ran out — which took many, many months — we could swap it for a new one at any gas or welding store.
This worked well for us for several years, including getting us safely through our next remote and long cruise around Vancouver Island last summer. But the new carbonation rig had one major drawback: It was a lot harder to actually bubble the water. Unlike the quick and easy way modern soda makers work, my DIY setup required vigorously shaking the bottle for about 30 seconds to make sure the water was fully carbonated. And it worked much better if the water in the bottle was very cold before adding the carbonation.
I know, I know, cry me a river of sparkling water. I could have been happy with what we had and left it at that.
But last winter, I came across Drinkmate — a SodaStream competitor with a twist. Rather than only bubbling water, it could carbonate just about any liquid, thanks to the way its special cap allows excess carbonation to be bled off slowly so the liquid doesn't overflow the bottle. I tried out a unit at home and discovered that we could now make just about any concoction we wanted. We added fresh fruit juices to water for flavor. We could make our own hard (or soft) seltzer. We could turn plain rosé wine into bubbly wine. We could recarbonate flat beer from that growler we didn't drink right away. From watermelon bubbly water to fizzy iced tea, the possibilities were endless.
It was fast and easy to create these delicious new beverages, and I wanted to start using the device on the boat. But that would mean going back to those annoyingly small bottles of CO₂, right? Happily, no. It turns out that you can find third-party adaptors with a hose that lets you use a larger CO₂ tank with any of the major home soda machines, including Drinkmate. I purchased one on Amazon for about $45.
The new setup worked perfectly for us on our five- week cruise this past summer. In our galley, we have a deep locker next to our sink that was the perfect place to mount the 5-pound CO2 bottle, with room to store the soda maker with the adapter attached next to it. It's now a breeze to bubble away to our hearts' content — to the tune of 5 or 6 liters of water a day.
It may have taken some starts and stops to get to this level of convenience, but as I sipped on my cup of cold, sparkling water in the cockpit on a 90-degree day last July, I couldn't have been any happier.
And isn't that what boating is all about?
Marty McOmber has been sailing and refitting his 1984 Passport 40, Rounder, in the Pacific Northwest since 2012. He and his wife, Deborah Bach, have lived aboard during summers and cruised from the south end of Puget Sound to the waters of Southeast Alaska, with plans for destinations farther afield in years to come.