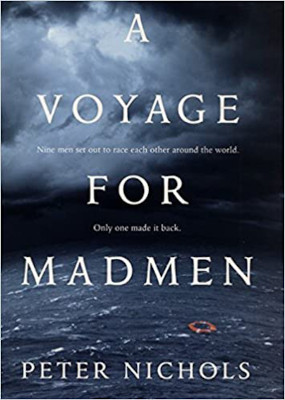 Between the summer of 1968 and the summer of 1969, while the first men orbited and landed on the moon, nine other men set out in nine ill-equipped little boats, determined to be the first to sail alone around the world without stopping. Only one finished.
The rest fell victim to weak vessels, illness, and insanity. But regardless of their fates, each man met himself on the voyage, and that's the thread that holds this book together. After all, the story of the first Golden Globe race has been told many times and in many ways: from the winner's perspective in A World of My Own by Robin Knox Johnston, from the philosopher's perspective in The Long Way by Bernard Moitessier, and from the ultimate loser's perspective in The Strange Last Voyage of Donald Crowhurst by Nicholas Tomalin and Ron Hall.
It's hard to imagine that there would be much new to say. Though Nichols borrows liberally from previous accounts, he also weaves the tales of lesser-known contenders Nigel Tetley, John Ridgeway, Chay Blyth, Loick Fougeron, Bill King, and Alex Carozzo into his narrative. He even includes some previously unpublished 1999 pictures of Donald Crowhurst's star-crossed trimaran, Teignmouth Electron, rotting in a Bahamian boatyard.
In his 1997 book, Sea Change (an account of his own singlehanded Atlantic crossing in a 27-foot English cutter), Nichols admits his captivation with the participants' stories. But what matters most to him is how isolation at sea strips a sailor of all pretense. And the sailors in that first Golden Globe race were more isolated than it is possible to be today. They had more in common with Drake and Cook than they had with modern circumnavigators. They sailed without GPS, EPIRB, weather faxes, or laptops. And Knox-Johnston's boat, Suhaili (the only finisher), was built from teak by Indian carpenters using axes, adzes, and hand drills.
The voyages of Knox-Johnston and Moitessier are the best known of the nine. Merchant marine officer Knox-Johnston simply couldn't abide the thought that anyone but an Englishman would be the first to go around alone non-stop. And though his boat was disintegrating around him, he plodded on, sustained by examples from British seafaring tradition.
Moitessier might well have won had he not decided to abandon both the race and the vulgarity of Western civilization in order to save his soul by taking his steel-hulled ketch, Joshua, on a second circuit of the Southern Ocean.
But the most compelling story to emerge from the race, and the one that clearly holds the most fascination for Peter Nichols is the tragic schizophrenic decline and death of Donald Crowhurst. Crowhurst's trimaran, Teignmouth Electron, was a failure — something Crowhurst didn't finally admit to himself until he was deep in the Atlantic. Unable to face quitting the race, he drifted for months in the Atlantic, fabricating a circumnavigation with false logbooks. The guilt and the pressure drove him slowly mad, and his logbooks chronicle his mounting insanity and eventual suicide.
Regardless of how well you know the story of the first Golden Globe, this book will grip you because Peter Nichols never forgets that the true voyages of these nine men were not outward upon the sea but inward upon their souls to a place of personal definition.
A Voyage for Madmen by Peter Nichols (Harper Collins, 2001; 289 pages)