Fixer-Upper Sailboats
The Neglected boat you save may become your own
If you're looking for an affordable good old boat that needs major fixing up, you've come to the right place. We're looking for abandoned, deteriorated sailboats in need of a new dreamer to turn them into a dream boat once more. So if you know of one, get in touch! And if you're interested in one of those listed here, follow your heart and follow up. Call the number listed.
Have something to add? Contact us. There's no charge to list a fixer-upper. But you must be selling it for $5,000 or less. Please let us know when your boat goes to a good home and we'll remove the listing.
There's no fee for the buyer either. We just want to help you find the boat of your dreams.
---
Winter 2016
Alden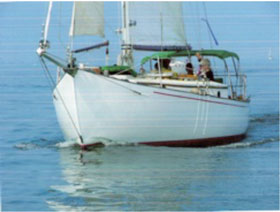 Length: ??
Price: $5,000 USD
Email: meadusry@gmail.com
Phone: 804-776-9122 (Mead Usry)
Location: Deltaville, VA
My wife and I have owned and sailed this 1937 Alden for 17 years. Currently insured for $40,000 with Grundy, this is not a typical fixer-upper. This is a strong seaworthy vessel you can enjoy while completing repairs. She is in a slip, ready to sail.
She was completely rebuilt, modernized below, and cold molded in 1987. The Perkins 4-108 Diesel has new exhaust and runs well. Pressurized H/C water, Force 10 heater, propane range, 12/120V ice box. New LED lights in cabin, sound system. 4 house & 2 engine batteries, professionally wired. All rigging, lines and sails in good condition.
New paint below, new cushions, and complete fiberglassing of cabin top and sides, and resetting of all ports was done in 2015 at a cost of $15,000. New Mainsail cover in 2014. Iron ballast encapsulated and bonded to hull with fiberglass in 2009. Also replaced floor timbers under mast step with fiberglass that year.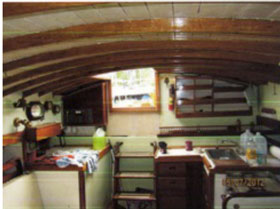 Repairs needed are minor compared to overall condition:
Replace 3 sections of degraded toe rail, 6? total.
Repair degraded gutter section at engine hatch.
Paint exterior.
Replace dodger & bimini canvas.
Re-install hand rails on cabin top (removed for glass work).
At 74, I am not using the boat, but I am continuing to care for her. Her name is Ateitis III. Ateitis is Lithuanian for "A Future." I have invested over $60,000 over the past 17 years to insure her future, and now I am considering my own. This classic head-turner is a fantastic deal for the right skipper. She was built as Juno in 1937, Hull # 22G, at W.W.Taylor in Duxbury, Mass. We bought her in Oriental, NC in February, 1999 and sailed her to Deltaville. I have the lofting plan designed by John Alden and drawn by Alberg.
1975 Searunner 31 A-frame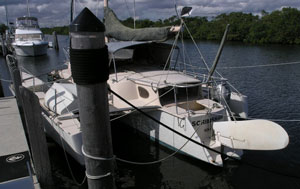 Looking for a worthwhile, very doable project trimaran? Scrimshaw, the boat built by Jim Brown for his personal use, is for sale by her second owner. The vessel can be seen on YouTube (note however that she was in a better state of maintenance when Mr. Brown made the videos). If you are seriously interested and have the time, money and space to restore this uniquely pedigreed Searunner, please contact me for details.
1981 Mariner 28
Length: 28 feet
Price: $ 500.00
Email: bensong@dcmoboces.com
Phone: 607- 244 - 8862 (Gary Benson)
Location: Onieda Lake, NY
I want to list my 1981 Mariner 28. She's a solid boat with a yanmar diesel.  Sailboat is on the hard on Onieda lake, NY.  The lake is part of a canal system so she can be sailed anywhere from here.  Storage is $300.00 for 6 months at marina.
---
Summer 2015
Catalina 22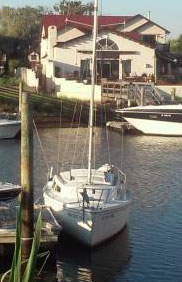 Length: 22 feet
Price: $2,500 USD
Email: crr31@aol.com
Phone: 516-448-3509 (Craig Reichert)
Location: Island Park, Long Island
1983 22ft swing keel Catalina sailboat, in water. Boat is in good condition, sailed on south shore of Long Island, also used for overnights on Zacks bay. Many extras, 7-1/2 Evinrude yachting motor, no trailer.  
Ullman offshore sails w/full batten in new condition, sail cover, 155 Genoa sail, old original sails also. Tiller lock, running lights, vhf radio, galley w/sink/ice box/2 burner alcohol stove. 2 anchors with chains and ropes, dock lines and bumpers, swim ladder, boom vang, v-berth, porta potty, table/bed, pop-top cabin.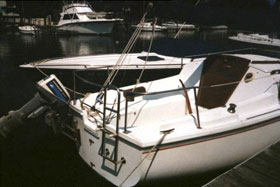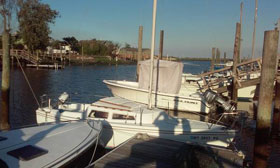 1970 Islander 27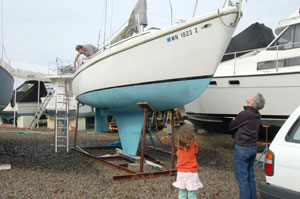 Length: 27 feet
Price: $2000 OBO
Email: etmmjw@comcast.net
Location: Shilshole Marina in Seattle
Sailboat, Mehitabel. Replaced water system, head and waste tank, sealants, electrical, panel, marine batteries and bilge pump. New depth sounder installed. She has a newer 9.8 HP Nissan outboard (approx 2007) in a well, that is currently not running.  We had motor controls installed in the cockpit. Needs gas replaced and tune up. Sails and spinnaker and two boom covers.
We have not sailed her for two years and she would need her hull power washed and repainted and the propeller on the outboard cleaned. Her sails are good – nothing fancy. She has been kept dry. Health problems and work keep us from sailing and we are out of practice enough that we would not be able to test sail for others.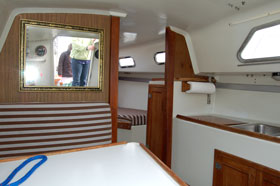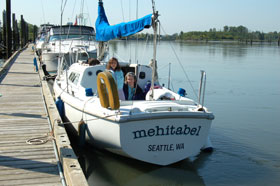 MacGregor Venture 25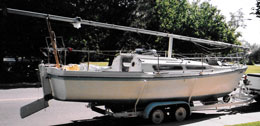 Length: 25 feet
Price: $2,000
Email: jmkasch@gmail.com (Norman A. Kasch)
Phone: 303-873-2059
Location: Aurora, CO.
1976 Fiberglass trailable. Sleeps 3 (5 if couple w/3 kids). Galley w/sink and ice box. Package includes sails, ropes, and many other items. Strong 4-wheel trailer. 12 volt winch allows 1 person to put up and position the mast and mainsail. Evinrude "Sport Twin" 10HP OB.
Spring 2015
Dufour "Dinette" sloop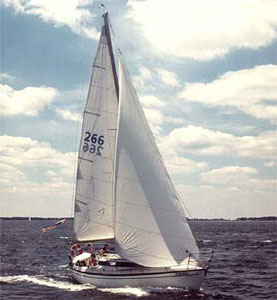 Length: 27 feet
Price: $4,000 ($4500 with fiberglass sailing dinghy)
Email: Jimcaskey2@gmail.com
Phone: 301-770-0385 (Jim Caskey)
Location: Bodkin Creek, western shore of Chesapeake Bay
My GOB is a 1973 27' Dufour "Dinette" sloop; I am the second and sole owner since 1979.  Except for actually hauling the boat out of the water, I've generally maintained her myself.  I rebuilt the Volvo diesel engine and made numerous upgrades and innovations over the past 35 years of sailing her on the Chesapeake Bay and around the Eastern Shore.  But age takes its toll on humans as well as boats, and she is in need of foredeck lamination repairs and work on the auxiliary (possibly repowering) as well as cosmetic attention.  She comes well equipped (gear has age but is still serviceable) and ready to sail away after the aforementioned repairs.
Except for my wife of 31 years she has been the love of my life and I hate to part ways, but it's time for a new owner to take her on and restore her to her glory.  She's a stable boat (rigged for single handing), points well, has sailed through numerous squalls.  I'd be glad to introduce you and let you see for yourself what a great boat she is and can become again.  Slip lease is up for renewal, so I'd like to sell her soon.  I feel  $4,000 is a very fair price for this French lady.
Ahoy, I am saddened to admit my GOB has slipped (pardon the pun) my attention over the past few years and become somewhat of a fix-it-upper in need of maintenance that is stretching my physical resources.  Priorities have shifted and at 73 I'm not as nimble as I once was in being able to cram myself into the cockpit locker, lazarette or engine compartment.  With sciatica and two torn rotator cuffs, hauling on halyards, sheets, and anchor rodes, not to say lifting cast iron engines, transmissions and other heavy equipment or hauling myself aloft, sailing and maintaining my GOB has become more of a chore and less of a joy.  
1974 Clipper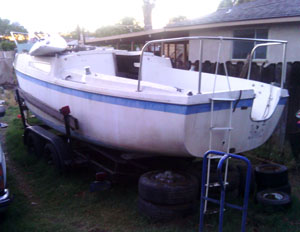 1974 Clipper sail boat and a 1973 AM (trailer which has permanent tags on it). Have both titles. Willing to let them go at a very reasonable price.
The rigging is all there but no sail. No leaks anywhere but inside will need refinishing. It wasn't covered over this last winter. Need to move it right away. It was to be a project for my husband but his health will not permit it now.
---
Winter 2015
Catalina 25
Length: 25 feet
Price: Make Offer
Email: Mary Read maryjread@aol.com
Phone: 330.328.5166
Location: Cleveland, OH
I have a 1981 Catalina 25 Standard Rig Fixed Keel in a cradle in a Cleveland boatyard that is expressway adjacent. She has 1990 Evinrude 15 (just a carburetor different from a 9.9 but on sale at the time) Electric Start Long Shaft. She is a dinette interior with a marine head, screens, other cruising/storage options. The Main has 2 reefs, 150 Jib is roller furling, Spinnaker is radial head with double end pole, light and heavier air sheeting. All running and standing rigging has been replaced since original.
I know that ports have leaked and this needs work as does the engine. She has been wet but not sailed in about six seasons. I would like to find my boat a skipper to take her cruising again. She needs someone soon. Please contact for more details, equip list, etc.
Not as much interested in price as not having to pay for dockage again March 1.
Back To Top
---