Fall and Rise of the Falls of Clyde
By James Barry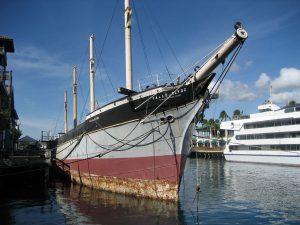 If you've been to Hawaii, you've maybe seen the Falls of Clyde, an historic sailing ship lying in Honolulu Harbor. She is a rare one: a four-master made of riveted iron. She was built on the river Clyde in Scotland, nearly 140 years ago. She'd be a strong contender for the ultimate good old boat. During her past, she traded around the world, hauling a wide variety of cargo until 1907, when she was fitted with integral steel tanks for carrying kerosene.
Falls of Clyde's active sailing career came to an end in 1927, and she was subsequently used as a floating fuel depot for another 30 years. Eventually, in 1963, she was towed to Hawaii and restored over the next decade.
Sadly, neglect followed her 1960s restoration and this once-great square rigger has fallen on hard times. Despite the valiant efforts of local volunteers, she has been in danger of being scrapped or swallowed by the sea. I've walked her decks several times over 25 years, and each visit has lit up my imagination. Early on, when the vessel was mostly intact, I could see her in her youth, her long, lean hull carving through the sea under a grand press of canvas. On later trips I took note of greater decay, but also of the individual efforts being made to paint bulwarks or to keep tar on the rigging. I wondered who was making the attempt to hold on.
On my most recent visit, the rigging had been taken down and water was collecting below from leaks in the upper deck. This time my imagination ran down dark tunnels as I wondered about what would happen should volunteers stop tending the pumps. How long could this ship stay afloat? What would be the final nail in her coffin?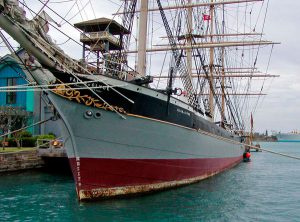 Happily, it is time for a new set of speculations. An organization named Falls of Clyde International (FOCI) has emerged with a plan to repatriate this storied ship to Scotland. They have secured a sharply discounted deal, to have the Falls of Clyde transported on a huge dry-dock ship across the Pacific, through Panama, and then transatlantic, starting in February. Plans are in place to begin a full restoration once she's home.
Restoration of historic ships is painstaking work calling for skills that are rarely used in modern shipbuilding. Old riveted hulls often rust between the lapped areas of the plates; repairing the damage means drilling out rivets, rust busting, and building up the original material or replacing it. The Falls of Clyde will need the services of people who understand her hull construction, iron plating, and, ultimately, traditional sailing-ship rigging.
The challenges are many and expensive, however, having witnessed the restoration of the Glen Lee in Glasgow 20 years ago, I can think of no better place than Scotland for the Falls of Clyde to go. The shipbuilders on the Clyde are among the best in the world, and their steady hands will put the ship in sailing trim again. When the restoration is complete, FOCI hopes to operate the ship on voyages as a fair-trade cargo vessel, the largest of that class to date. If you would like to learn more or to help with a donation, check out www.facebook.com/fallsofclyde and www.friendsoffallsofclyde.org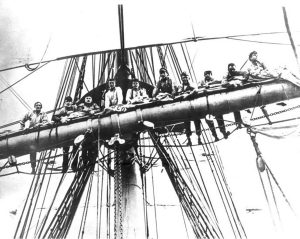 Falls of Clyde is a rare survivor of extended sea travel, typhoons, and the ravages of salt and time. With a little more luck, she will enable future generations to experience the ship, wonder about her long life, and imagine where they fit into her long chain of custodians.
James Barry has worked on square-rigged ships for more than 30 years. He specializes in traditional rigging and has worked for museums, training ships, and Hollywood. Between jobs, James and his wife sail their Endurance 35 steel ketch between Maine and the Caribbean. They're currently in Florida.