The Leap from Luddite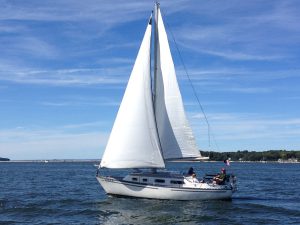 By Howard Nelson
I acquired my first boat as a child, a red MFG 14-foot runabout with a stinky 35-hp Evinrude. She was slow, noisy, and not at all seaworthy. Within in a year, the red fiberglass turned to rose and the blush was gone. Many years later, my first true love arrived in the form of a powder-blue AMF Sunbird 16. She carried a jib and mainsail and offered a small cuddy to get out of the rain. She floated in 8 inches with the centerboard up and was an angel when it was down. I loved pulling her up on our Nissequogue, Long Island, beach to watch the osprey fly overhead and then to sail back into the Sound and head home after a long day.
I was inflicted with that which has defied cure since a boy first floated a stick in a pond. There's only one treatment, another sailboat. Years later I spotted an ad in the local paper for Chanty, an Ingera 23. She was of uncertain pedigree and a dubious past, fallout from a family quarrel, and for a pittance she was mine, complete with a real cabin, leaky ports, rotted hoses, an undependable outboard, and a serviceable set of sails. Together, we sailed almost every weekend, in and out of Huntington Bay and into the Sound. Each day's outing was a joy. When grounded at low tide, which was often, it was time to take out a book and a beer until the water lifted us again.
As the years passed, I caught big-itis and found more nautical joy in My Pleasure, a Hunter 27. Then came Avalon, a Hunter 30. As my nautical mistresses grew, so did their complexity. Sailing became a coordination of systems and interfaces and schedules. Each year, despite time getting harder to find and costs growing, the joy of a day on the water still justified it all. Sometimes it was enough just to take the Sunday paper in the cockpit while the gulls and cormorants flew above. But when the wind was up, so were the sails.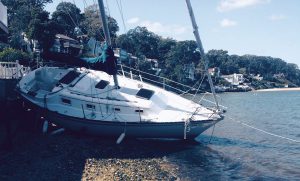 What became of Avalon? She was lost from her mooring in a nasty northeaster. Then a job change and a relocation followed and sailing took a backseat in my life.
Here I am now in Mississippi, far from the sounds and feelings of sailing because that's where life has taken me. I'm not young enough to go back or old enough to pack it in. I move forward. Sitting in my favorite chair, recalling the clink of a winch is music to my mind. I love the crack of a Dacron sailcloth in the wind, and the run of a nylon cord through my hands is like a mermaid's song.
Cleaning out the attic I came across two large boxes of my Good Old Boat magazines, all the way back to the first issue. Each issue spoke to me in some way, but I can't justify moving the boxes again and, in a not-so-distant future, I won't be able to even lift them. Because there were no takers, I packed them up and consigned them to the refuse heap. To be honest, there was a tear or two.
I'm a Luddite. I loved to turn the pages of past issues of Good Old Boat because they are like home, a friend. I will continue to be loyal to our mutual cause, sailing for the rest of us, even if it is, for now, in my mind.
I loved to sail because it was slow, except when it wasn't. Sailing was quiet, except when the wind howled. Sailing was without complexity, except when I sought it.
If I could remove the modernity that gets in the way of the pure joy of the boat, the wind, the sail, and even your magazine, I would (though that might make it hard to get home against the wind and tide).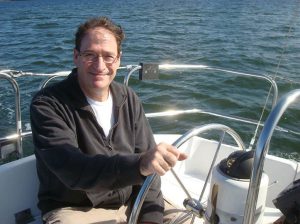 It's probably time to break ranks with my fellow Luddites and acquire the back copies of Good Old Boat in digital form. It won't replace a day on the water or the slick pages I loved to turn, but at least I can still dream, even if I need an iPad to do so.
Howard Nelson was born and raised on the north shore of Long Island, New York. He Spent summers canoeing on the Nissequogue River and swimming in the Sound. Two of his adult kids love sailing, two not so much.. For the time being, Howard's an arm chair sailor, but he has lake sailing on his mind…
---
CONTINUE READING THIS MONTH'S DOGWATCH
---