Boat Identifiers S to Z
These pages are for the little painted bits on the bow, stern and sides of a boat, that might assist in identifying a Make or Model. Another identifier is the insignia on the sails, which we have listed on our Owners Associations pages. And Bill Lamica spent years putting together an incredible Sail Insignia Guide (PDF). It's easy to print for handy reference aboard as another sailboat floats by.
---
S – Z
S2
(first version)
The S2 company was good about putting its S2 logo where you could find it. The series of fine black lines is a good clue also.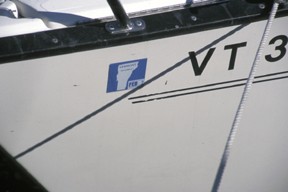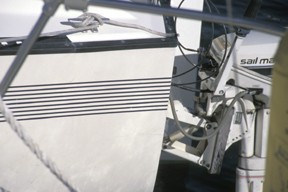 ---
S2
(second version)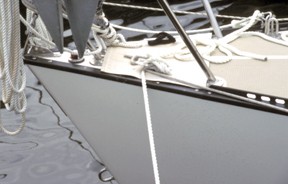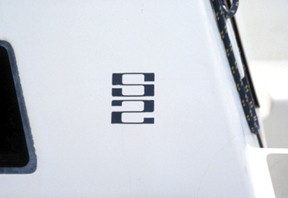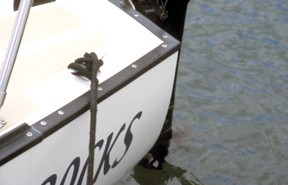 ---
S2
(third version)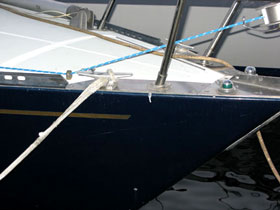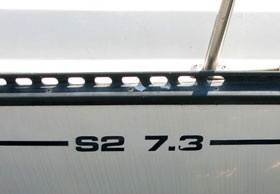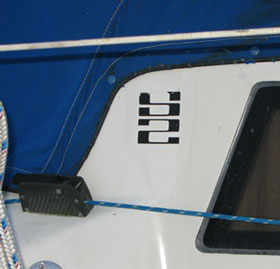 ---
Sabre
(Old style logo)
Thanks to Eric Miller for his clarification: "After the financial rescue of the company by Ed Miller, they redesigned the Sabre 'S' on the aft end of the cove stripe."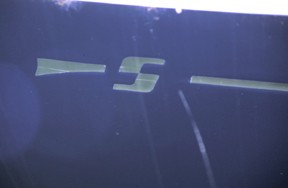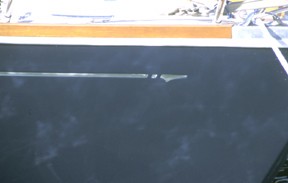 ---
Sabre
(New style logo)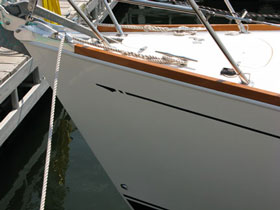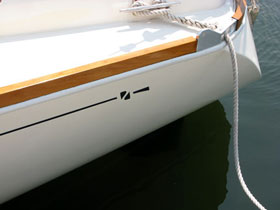 ---
Seafarer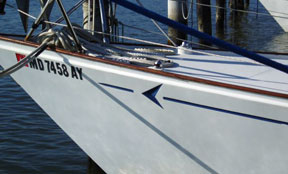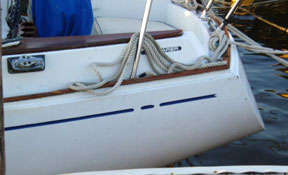 ---
Seafarer Meridian?
Charlie Jones writes: "This is a picture of the cove stripe on my 1961 Seafarer Meridian 25. It doesn't look a thing like the one posted on your website." So now, we wonder, who can resolve this mystery for us? Did Seafarer make several cove stripes, perhaps a special one for the Meridian? They wouldn't be the first boat manufacturer to do that or to change the company cove stripe over the years. If you have answers, please contact karen@goodoldboat.com and we'll try to set the record straight.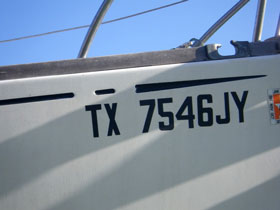 ---
Seaward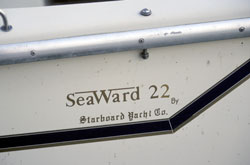 ---
Shannon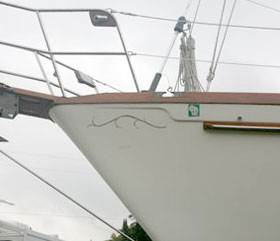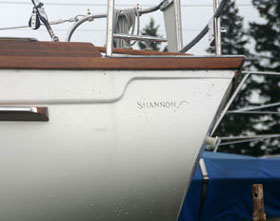 ---
Sirius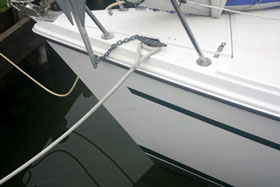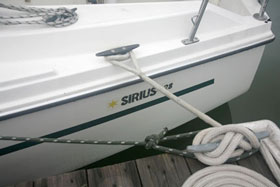 ---
Sparkman and Stephens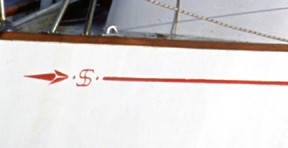 ---
Spencer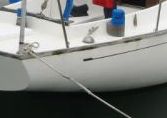 ---
Swan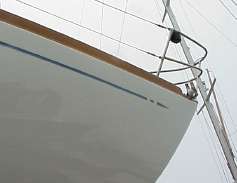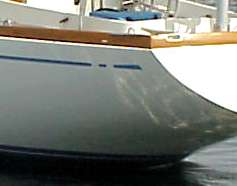 ---
Tanzer 7.5
Tanzer remembered to put a logo where the dockwalkers could see it. Most have faded now, no doubt, but you can still make this one out in the mid section.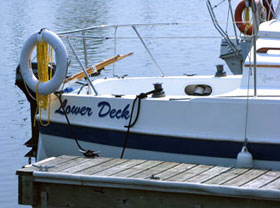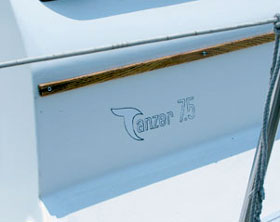 ---
Tanzer 22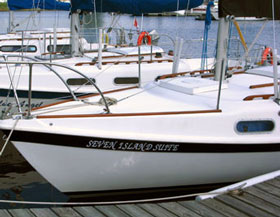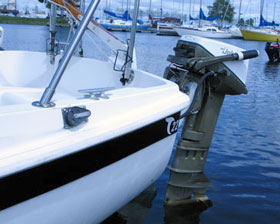 ---
Tartan 37
Tartans are well-marked also. In addition, note the distinctive coaming around the dodger.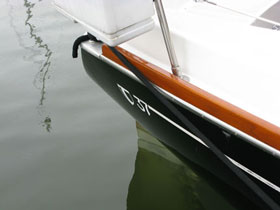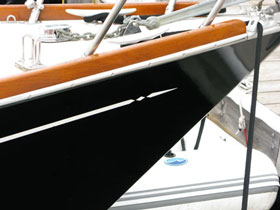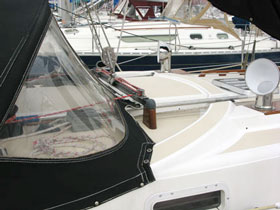 ---
Tartan 34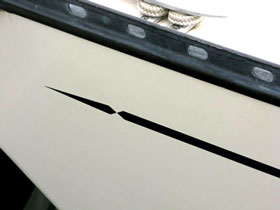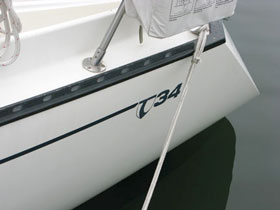 ---
Tartan Ten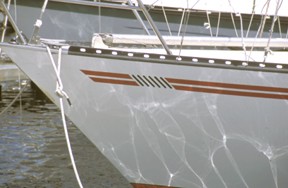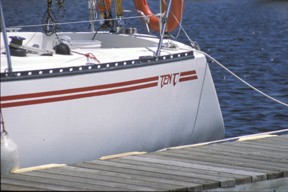 ---
Tradewinds (Monk Tradewinds)
Skookum yard in Port Townsend WA built a mold from Ed Monk's plans and was in turn sold as a "Tradewinds."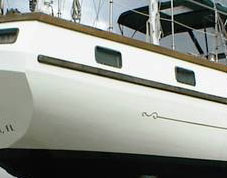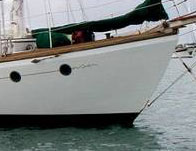 ---
Unison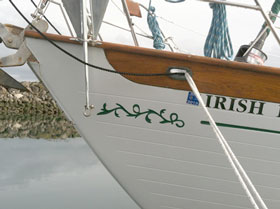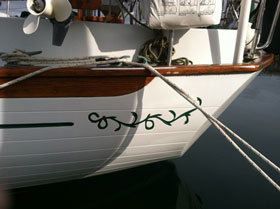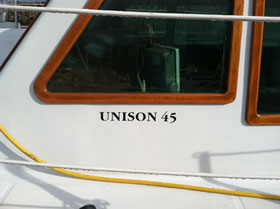 ---
Valiant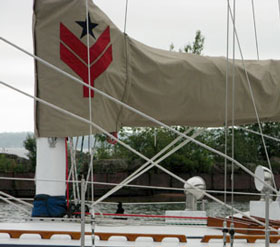 ---
Viking
This is a 1975 Viking 33 designed by C&C (hence the C&C logo cove stripe) built by Ontario yachts. The cove stripe has a gap amidships. — James Dallimore.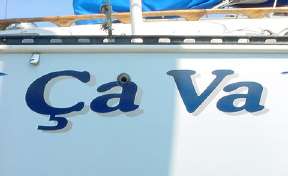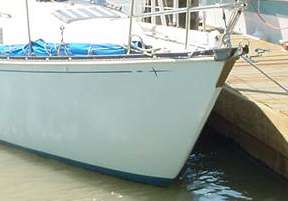 ---
Watkins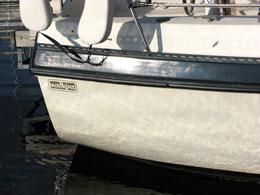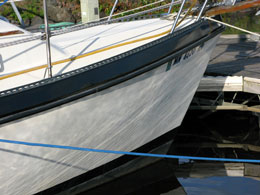 ---
Westerly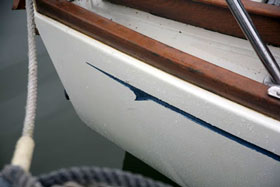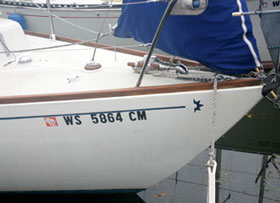 ---
Yankee Dolphin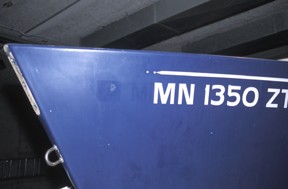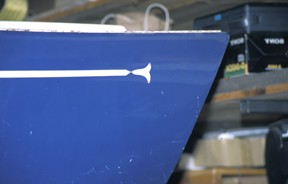 ---
Yankee Yachts