Book Reviews – August 2018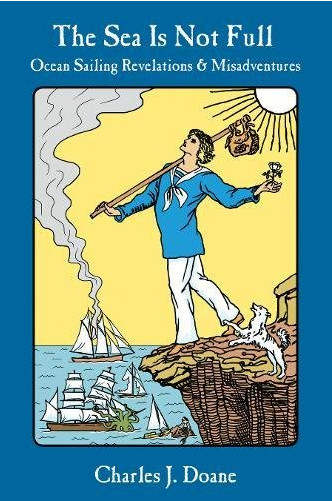 The Sea Is Not Full: Ocean Sailing Revelations and Misadventures
by Charles J. Doane (Seapoint Books, 2017, 356 pages; $24.95 print)
Review by Jeremy McGeary
Many a young scion of Maine's summer people has enjoyed a boyhood spent messing about in boats, and the experience has no doubt caused some to drift off their expected career course. That seems to have been the case with Charlie Doane. He tried to meet his family's expectations, and even practiced law for a while, but in the first chapter of The Sea Is Not Full, we find him in Key West, Florida, sea bag on his shoulder, after answering a "crew wanted" advertisement in a magazine.
That adventure disintegrates into a tragi-sit-com, but our vagabond soon finds himself aboard Constellation, a run-down Alden schooner whose owner is committed to participating in Jimmy Cornell's 1992 America 500 rally celebrating the 500th anniversary of Columbus' 1492 transatlantic voyage. First, though, Constellation, with her assorted and variable crew, must sail to Spain, where the rally will assemble. So begins, after much labor and emotion expended in restoring Constellation to some semblance of seaworthiness, Charlie's offshore sailing career.
In the years since, he has compiled a full resumé of refitting sailboats to suit his own cruising whims and of passages sailed. He has also written in magazine articles and books about many of his experiences and maintains a commentary on all things sailing on his WaveTrain blog. Throughout his writing, Charlie's interest in sailors and their motivations is clear, and he seems to have a knack for running into individuals with unusual hopes and ambitions. One of the most unforgettable is Papa Neutrino, who forces us to examine our concept of seaworthiness.
In The Sea is Not Full, Charlie catalogs his ramblings, cerebral and waterborne, in four parts. The first is his vagabond phase. In the second, he ruminates on humans' fondness for, and theories about their attachment to, the sea, and presents practical knowledge, some of it hard-learned, about offshore sailing. Part three is about his fitting out an Alberg 35 and sailing it to Africa, where he finds himself drawn into the spirituality of denizens of the Gambia River. Part four is about some of the people he's sailed with.
Bookending these memoirs and musings is Charlie's analysis of the abandonment of the catamaran Be Good Too in the Atlantic in January 2014, for which Hank Schmitt, as the skipper, and Charlie especially, as a well-credentialed sailing writer and longtime cruising editor for Sail magazine, took harsh criticism from sailors, both armchair and genuinely salty.
Charlie's writing style is lucid, unpretentious, and humorous, all of which I appreciated in the short time (full disclosure here) he and I spent together in the editorial department at Cruising World during one of his attempts to stay moored to a desk. The reading is easy, whether he's riffing on Moitessier's philosophy on being one with his watery planet, analyzing an emergency as it evolved at sea, or exploring the characters of his many shipmates, some of whom he'd fallen in with by chance on his travels and some, like Don Street and Jimmy Cornell, he'd sought out for their influence on contemporary sailors.
Jeremy McGeary is Good Old Boat's senior editor
---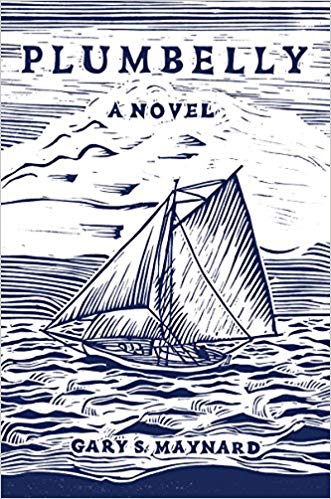 Plumbelly
by Gary S. Maynard (Flat Hammock Press, 2018, 227 pages; $24.94 hardcover print, $14.99 Kindle edition)
Review by Gregg Bruff
Set in the alluring South Pacific, this coming-of-age novel describes three young friends on their personal and shared journies, reckoning with their past while looking toward a potential shared future. They work together through difficult situations aboard the wooden gaff-rigged sloop Plumbelly to leave their troubled lives behind and discover new opportunities.
The story not only envelops the teenagers, but also their parents: a vengeful, ultra-strict minister and absent mother; an abusive father we love to dislike and a cowering mom who has never stood up to him; and a conniving business man trying to protect his sixteen-year-old daughter, whose oblivious mother is too doped up on valium to notice anything.
Who hasn't thought of escaping to a remote Pacific island and living among the sea breezes and palm trees? The story cried out "escape, escape, escape" for the two buddies and a beautiful girlfriend. Rescue the seaworthy sloop abandoned in the harbor by a dead man and flee as soon and as far away as you can. But, reality sets in and their hejira ends in tragedy.
As I read Gary Maynard's first novel, I was torn between what seemed to be a book written at two levels. One is a post-juvenile appeal story of Gabe, Lloyd, and Tanya fleeing their island home toward an uncertain future; the other a mature sailing adventure for sailors written by a sailor who has stood many a watch and traveled thousands of miles of blue water. The sailor-turned-author succinctly describes many of the details of a typical voyage, from negotiating a tropical storm to repairing a severely damaged wooden boat after she runs aground on a coral reef.
This dichotomy is punctuated with numerous typographic and grammatical errors in the bound advance copy I read. Despite these distractions, as I read on I was captivated by the characters who helped the teenagers deal with adversity: a native healer from the jungle surrounding the youths' village, a Fijian tribal chief, and a Buddhist-like sage of a steamer captain. All assist them in some way while parsing out wisdom and a bit of humor.
The three protagonists, who lacked the skill or courage to strike out on their own, flee a variety of bullies by simply leveraging their conviction that together they can succeed. Though young, Gabe had traveled many miles by sailboat, and learned a lot along the way, enough to set out on a voyage of his own (perhaps a little too much for a fifteen-year-old, but then, I wasn't raised on the water like he was).
I can tell I'm getting old as I wince at the repeated use of the "f" word in today's discourse and written dialogue. This facet of the novel put me off and I wonder if the story would have been just as rich if the characters had expressed themselves in other ways.
There were also times when the storyline included implausible scenes, like the school teacher taking advantage of Gabe on a class camping trip where only the teacher and one student attended. Though the situation played heavily in the rest of the story, it seemed a rather unlikely predicament.
The novel allowed me a bit of daydreaming as I've always been attracted towooden gaff-rigged sloops, despite their upkeep challenges. (If dollars were unlimited, that rig would be my choice, no matter where I sailed.) And, I enjoyed reference to The Wind in the Willows and the sea chanty reminder "growl you may, but go you must" was a great addition when referring to having to take a turn on deck in terrible weather.
I imagine a late-teen or early adult co-reading this book with a grandparent, sharing the two worlds the novel represents. An old salt could explain the seafaring terminology and technique to an adventurous young person as they explore the novel together.
Gregg Bruff is a retired National Park Service ranger who relocated from Lake Superior to Lake Michigan and the "banana belt." He and his wife, Mimi, sail a Columbia 8.3 they call Arcturus. Gregg is a landscape painter, writer, avid reader, and enjoys all things outdoors. When not sailing, he enjoys teaching classes and working with students on the high ropes challenge course at Clear Lake Education Center, where Mimi is the director.