Book Reviews – April 2018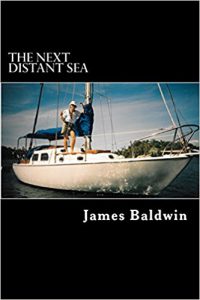 The Next Distant Sea
by James Baldwin
(Createspace, 2017; 350 pages; $13.99 print, $4.99 Kindle edition)
Review by Jim Papa
This is the latest of James Baldwin's books chronicling his life and travels aboard Atom, his dependable Pearson Triton. Baldwin's narrative begins in 1992, with Baldwin living aboard Atom in Hong Kong, midway through his second circumnavigation begun "four years earlier in Ft. Lauderdale." The book covers Baldwin's voyage from Hong Kong to South Africa by way of the Philippines, the Spice Islands, Mauritius, and Madagascar over several years.
For much of the sail Baldwin is accompanied by his friend, Theo, who crewing aboard Atom the year before, was "immediately…hooked on the cruising lifestyle." Returning to Hong Kong after time spent in Europe earning enough to buy his own sloop, Theo selects Islander, a "28-foot…Taipan built in Hong Kong," which he refits with Baldwin's help. Islander and Atom then set out together for South Africa. Passing through the Philippines, and suffering from a mysterious malady doctors can find no cause for, Baldwin falls for a young Filipina named Margie on the island of Tacloban. Baldwin sails on, but loneliness soon gets the better of him and he returns to pursue the "lovely" Margie, who agrees to continue with him aboard Atom.
Baldwin is not, in the end, a literary sort prone to the kind of deep, nuanced reflection we find in Bjorn Larsson (From Cape Wrath to Finisterre), Adam Nicolson (Seamanship: A Voyage Along the Wild Coasts of the British Isles), or Kevin Patterson (The Water in Between). Nor is he one to follow on the heels of such well-loved raconteurs as Jack London and Joshua Slocum, or the rascally Tristan Jones.
Instead, Baldwin more or less falls into the tradition of the cruising narrative as practiced by sailors such as Harry Pidgeon, Herb Payson, Eric Hiscock, and the Pardeys, who, despite meeting with the occasional disaster or gale, appeal to the more staid adventurers among us. Their books tell of people and places along the way, and in the end these somewhat hurried and occasionally hum-drum accounts seem to end where they begin, or, rather, where the writer imagines the reader wishes them to–safe at home or in harbor again, psyches and lives more or less what they were when they set out. Not for this crew, nor for Baldwin, the sensational antics of Robert Manry (Tinkerbelle), the hard bitten courage of Vito Dumas (Alone Through the Roaring Forties), or the personal pathos of pelagic vagabonds such as Sterling Hayden (Wanderer)and Peter Nichols (Sea Change), who confront deep personal failures and faults at sea.
In the end, Baldwin, who like the Pardeys is not big on electronics or auxiliary power, trades in sensible cruising, and the sort of writing associated with that. He navigates both life and sea with the kind of cool self-assurance one might claim after bouncing luckily over an unseen reef. When, reaching South Africa, Margie grows "weary of" his "need to wander the world under sail," he and she part with "No tears. No anger," at least none that Baldwin, "outwardly stoic…but inwardly shaken," is willing to share, with us or with her. Instead, he dons the Romantic solitary's mantle, declaring there "were things [he] would not share, compromises [he] could not make," his "melancholia…mixed…with a selfish relief" at once again being "alone and free."
Two weeks later, when a letter arrives from Mei, a "past girlfriend [Baldwin] had left in Taiwan years before when [he] went back to sailing after [his] work contract had ended," Margie seems easily forgotten. And when Mei, who had earlier proved herself "happy" sailing on a "small boat," agrees to marry Baldwin after a brief visit together back in Detroit, he is more than happy to surrender his proud solitude, promising her a life ashore if she will "sail with [him] for a few more years."
Despite Baldwin's struggles at points with bad health and loneliness, he is not one of those voyagers who set out shrouded in doubt or in search of "solitude, deprivation, and danger," as Alvah Simon does in North to the Night, in which Simon recounts spending four months alone on his boat in the frozen arctic. Baldwin's passage is not a Quixotic quest. He is neither running from nor seeking some deep truth about himself; he is not bent toward mystical encounters with the natural world. A "minimalist by definition," Baldwin is, rather, a familiar sort of adventurous free-spirit, possessed of some Gypsy bones, determined to live a life far removed from the "smoke-filled" Detroit factories he worked in as a young man.
That said, Baldwin betrays an almost humbling humility of sorts in his treatment of other single-handlers he meets who have dared things even he would not try. That he knows how to recognize and win the trust of such souls says much about his character, all of it good. And his compelling accounts of those who have made long distance voyages against the odds in simple or eccentric craft of their own are presented with astonishing force and clarity.
One such portrait is that of Alberto Torroba, who sails from Panama to the Philippines in a 15′ "canoe carved from a single tree," using "methods like those employed by the ancient Polynesians." After losing his handheld compass and his "sole chart of the Pacific…just four days out from the Galapagos Islands," Torroba still manages to cross the Pacific successfully. Later, using nothing save a few hand tools, he builds a 26′ plywood and bamboo catamaran in which he and his new Philippine wife make "an incredible passage of over 1,000 miles from the southern Philippines and across the South China Sea" to Hong Kong, "with no navigational instruments aboard, not even a compass." This and other profiles Baldwin presents are so fascinating they deserve book-length treatments of their own, and one hopes Baldwin might take on this task someday.
No voyage, and no boat, can be all things, and neither can any book. Like the seas and harbors Baldwin explores, The Next Distant Sea is shallower in some places, deeper in others; the holding ground can be suspect at times. But there is still much in this book to interest readers, whether blue water sailors or not, and it suffers less from comparisons to others of its sort, than from its own somewhat uneven accomplishments. It moves a bit too swiftly at times (as do many books of its ilk), but is otherwise mostly well-paced. Baldwin offers commentary and insight on history and culture, but his analyses tend toward the simplistic, devoid of subtler reckonings and sensibilities. Baldwin is, for instance, rightly aware of and angered by the racism he and Margie encounter in South Africa, but less conscious at other times of what some might consider subtler post-colonial complicities.
It remains a remarkable accomplishment to cross an ocean or complete a comparable passage in a small boat, alone or with a crew. And anyone who writes well enough ought to tell the tale. Baldwin has accomplished both things in a respectable fashion. But a boat's wake does not linger long upon the waves, and few are the books of any sort that last.
The Next Distant Sea held my attention, and will likely hold yours, but there is no denying it often comes up against a kind of solipsism not uncommon in such books. It is not, in the end, a literary work. It's supposes no horizons we cannot see. Baldwin's writing lacks the kind of gravitas and poetry the sea sometimes bestows. Nevertheless, The Next Distant Sea will likely satisfy those who don't look between the meridians for metaphors. Still, my sense is that Baldwin has more in him than he has yet managed to get hold of in this book, and I'd chance reading his next book on the hope he eventually finds it.
Reviewer Jim Papa is a professor of English at York College of The City University of New York, where he teaches creative writing. He sails on Long Island's Great South Bay.
---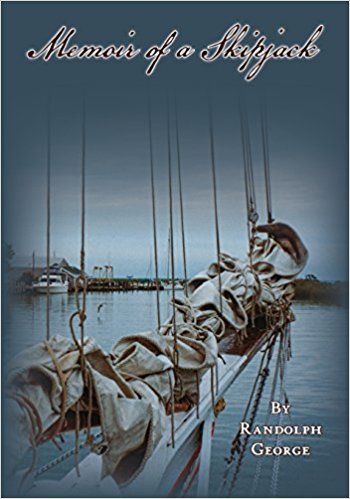 Memoir of a Skipjack
by Randolph George
(Salt Water Media, 2017; 188 pages; $21.95 print)
Review by Wendy Mitman Clarke
It is probably inevitable that a memoir of a skipjack is going to leave one feeling a little melancholy. There are so few of these working sailboats left on the Chesapeake, our very own indigenous species slowly going extinct before our eyes. All the more reason, then, that we're lucky Randolph George has written Memoir of a Skipjack, a thorough accounting of the life and times of the skipjack Martha Lewis and the families and people whom she touched.
A retired neurosurgeon, George fell in love with the Bay's working sail while driving around Maryland's Eastern Shore with his brother-in-law, boatbuilder Allen Rawl, trying "to discover what was left of the one-mighty skipjack fleet."
"In the process, my regard for skipjacks grew from mere curiosity into mission," George writes. "Maybe it came from not wanting to watch something die, to hold onto something of worth, while there was still time. Anyway, one night, over beers, we decided to save one skipjack, to keep it from its likely fate of rotting in the mud in some creek along the Bay."
In 1993, George purchased for $30,000 the Martha Lewis. In the process of restoring her, George says, "she shared with us a rich lore from her past and introduced us to the people who had created her and depended on her for a living."
The book, then, is that history of the intertwined families, builders, captains, and crews who were part of Martha Lewis's life. In that sense, it is less a memoir than an oral history and priceless gathering of many stories of a time and a place that is long gone.
That history begins, appropriately, in the boatyard of Martha Lewis's birth, owned and run by the storied builder Bronza Parks of Wingate, Maryland. As he does with each main character in Martha Lewis's story, George uses first-person interviews with family members and friends to give us a rich picture of the people who were part of the skipjack's life. Bronza, for instance, tried to hire as many young men in town as he could, and even if there wasn't much work, he "would throw nails around the yard when he finished up at night, so that they would have something to do the next day. On Sundays, he would give one of the boys a quarter to wash his Model A Ford."
Some of the best sections are the word-for-word interviews, rich as they are with the cadence and accents of the Eastern Shore. Interviewing Captain Dan Dize, who bought Martha Lewis in 1967 "against the advice of his wife and friends," George lets us hear him talking about working the water:
"I was a bowsplit [bowsprit] man from the time I ever start a'goin' on boats. The bowsplit can get slipp'ry as a greezed eel. You go out there when it's a-sleetin' or snowin' and rainin' or whatever, wi' her bow snuttin' down, you can imagine what!"
These wonderful interviews, many of them with people who've since passed, along with rare family photos, give this memoir its richness and enduring value. They are supplemented by appendices detailing Wingate family genealogy going back as far as the late 1700s, and a detailed listing of every single skipjack, alive or dead, that George and Rawl were able to document.
The restoration, described in Rawl's logs, takes us through the painstaking work of pulling apart an old wooden working craft and rebuilding her while staying as true as possible to the original. A detailed glossary helps the reader understand some of the more archaic terms.
In all, this book is a treasure, rich in stories, poignant detail and memory, and straight-up information about the restoration of Martha Lewis and the state of the "once-mighty skipjack fleet."
Wendy Mitman Clarke has been sailing on and writing about the Chesapeake Bay (and elsewhere) all of her life. You can see more of her work, including reviews of her new novel Still Water Bending, at www.wendmitmanclarke.com.
---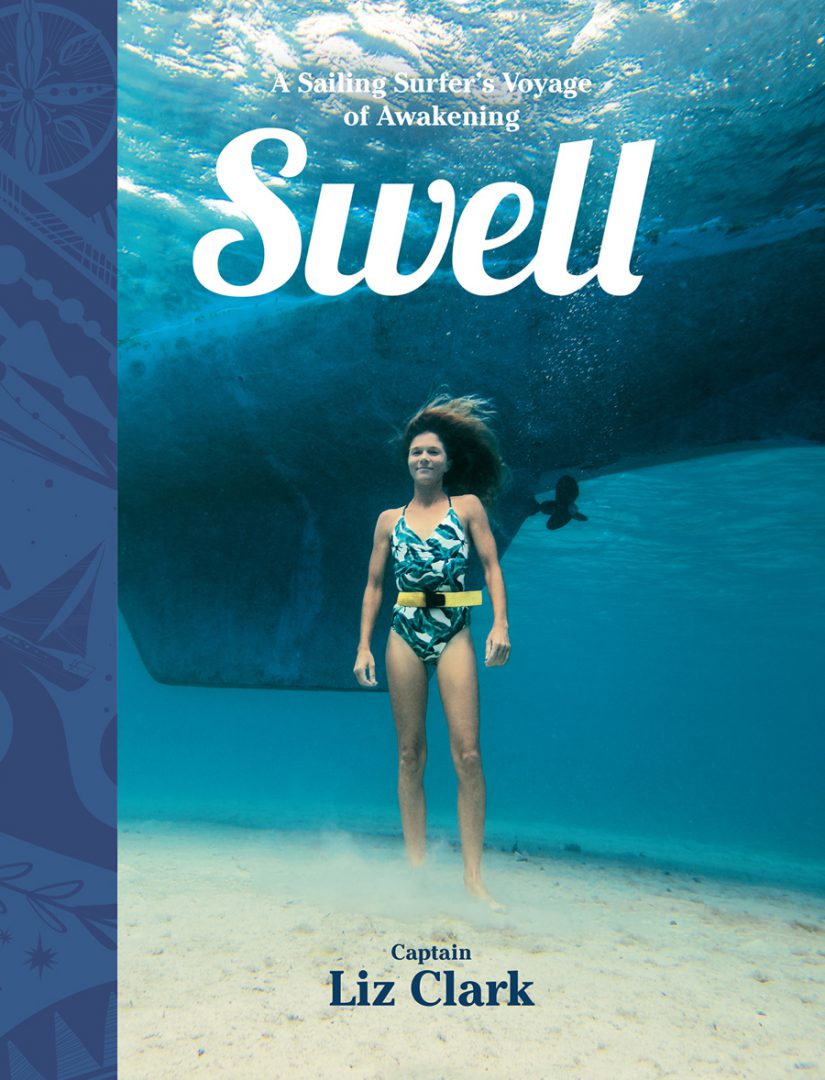 Swell: A Sailing Surfer's Voyage of Awakening
by Liz Clark
(Patagonia, 2018; 320 pages; $35.00 print, $14.95 ebook)
Review by Michael Robertson
Full disclosure: Liz Clark is a friend. I followed her adventures in Latitude 38 magazine almost from the start, then had a good fortune to meet her in person in French Polynesia in 2015, as she was putting the final touches on this manuscript. I wrote her story for Cruising World ("Still Riding the Swell," February 2017, https://www.cruisingworld.com/sailor-profile). So when I heard this book was out, I was eager to read it, and a bit nervous to review it — what if it missed the mark? How do you tell a friend their book doesn't warrant a good review?
I needn't have worried.
Liz delivered. I can wholeheartedly recommend this book to everyone — not sailors, not women, not young people, everyone. I loved it (and loved it despite knowing most of her story going in).
I'm a fan of the genre memoir and the great ones are not simply honest (though that's essential), but succeed in revealing to the reader something about themselves. In fact, in my experience, if a reader doesn't come away from a memoir feeling or understanding something more about themselves than they did before diving in, the author failed.
Of course, the only way for an author to do this is to make keen, personal observations about their own life experience and perspectives. Doing so, and doing it well over 300 pages, and the author is bound to connect with fresh insights about the human experience. This is what Liz has done.
The story is a 10-year window in the author's life, from a 22-year-old stymied by her over-the-horizon dreams, to a woman who's learned to appreciate her own strengths and to understand and address her own shortcomings. Her journey is over 20,000 miles aboard a 1966 Cal 40.
"I wish everyone could feel this deep liberation," she writes towards the start of her trip, exhilarated at casting off and away. And we do feel it. Liz carries us along, on a voyage that is about much more than sailing and surfing and exploring. The threads that are woven through are based on relationships, significantly with her mentor, her mother, her father, friends, lovers, and most significantly, herself. By the end she and the reader understand that its these relationships, good and bad, that allow everything else to matter at all. "…chasing my dream has taught me that happiness and self-love don't come from being the best. They come from pursuing our most brazen ideas and connecting to our own spirits, communities, and world. Being the best, or richest, or strongest, or sexiest — without feeling connected — doesn't sound heavenly at all."
Michael Robertson is editor of Good Old Boat magazine.
---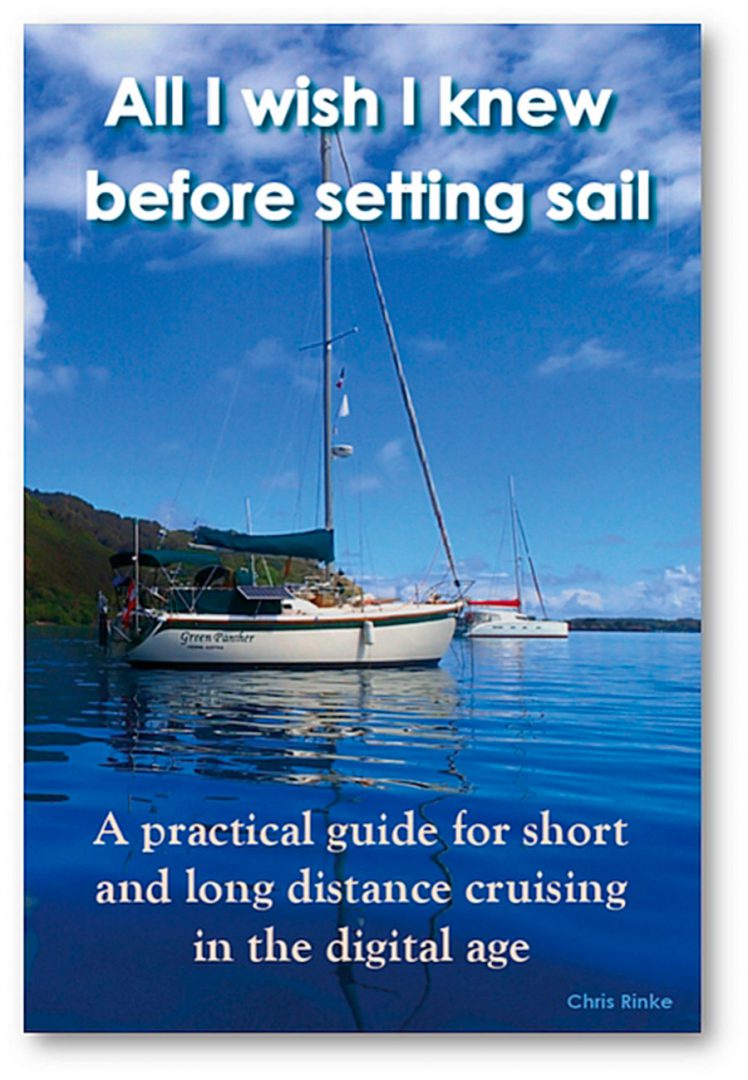 All I Wish I Knew Before Setting Sail: A practical guide for short and long distance cruising in the digital age
by Christian Rinke
(Createspace, 2017; 340 pages; $17.95 print, $9.80 ebook)
Review by Michael Robertson
This book is aimed squarely at wannabe first-time cruisers who are ready to take concrete steps to casting off for a voyage. The author is a relatively young cruiser who bought a 1973 Columbia 34 in need of some attention, completed a total refit, and crossed the Pacific with his wife. Though the text contains a bit of motivation and insight, this is a practical distillation of the knowledge the author gained, from start to finish. It's well-organized and touches on just about every subject I can imagine, from finding the right boat, to outfitting, to life aboard.
In fact, that's the root of one of my only complaints about the book: there are subjects that should have been left out. It seems the author felt compelled to cover everything. Yet, I think the book would have been stronger if he had dropped a few topics. Rather than give 300 words or several pages to cruising with pets, or sailing with kids, or storm tactics, for example, it would have been better to simply acknowledge these subjects, and to then point readers to some of the books that focus on them. (Full disclosure, I'm the author of a book on sailing with kids.) Where the author covers topics with which he and his partner are familiar and experienced, the text comes alive with an authority conveyed through personal anecdote and perspective.
Readers should know that this is a book from a West Coast sailor who crossed the Pacific. Most of the information will be relevant to sailors starting a cruise from anywhere (and not necessarily crossing oceans, but liveaboard coastal cruising too), but the perspective and even some of the information is particular to the Rinkes' adventure aboard Green Panther. Also, I stumbled on grammatical errors and typos, but not to the point of distraction.
Looking to untie some lines one day and disappear over the horizon? This book is a good step to getting your feet wet. While nearly all the information in this book is available elsewhere, it's nice to have it distilled and organized between two covers and delivered in Rinke's fresh voice.
Michael Robertson is editor of Good Old Boat magazine.