Eleventh Anniversary Good Old Boat Regatta -Annapolis
Sponsored by Good Old Boat Magazine
Hosted by Shearwater Sailing Club
October 9 & 10, 2010
Annapolis, MD
Race Results ›
---
2010 Good Old Boat Regatta Report - Annapolis
Good Old Boat Regatta 2010 posts successful event
The 11th Good Old Boat Regatta was held on Saturday and Sunday, October 9 and 10, on the Chesapeake Bay off Annapolis. This annual event for boats "of a certain maturity" has come to be known as "the sailboat race for the rest of us." For the first time in years, the organizers were able to get the race completed on both days, thanks to wonderful weather. Warm and weather with enough wind (though the Sunday start was delayed until the breeze filled in) made for two beautiful fall days of sailing on the bay.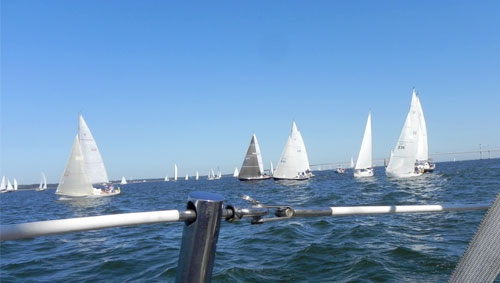 The Good Old Boat Regatta is designed to be friendly to racing and non-racing skippers alike. If three or more boats of the same model enter, they can have their own class start and race as a one-design fleet. There are also handicap classes for fin and full keel designs.
This year's fleet included class starts for these models: Alberg 30, Cal 25, Cal 36, Pearson 30, Pearson Triton, Tartan 30, and Tartan 34C.
The top finishers (on corrected time) in the handicap classes on Saturday were Chandelle, a C&C 40 skippered by Peter Holden in the fin class, and Fandango, a Pearson 35 with Tony Silvio at the helm. On Sunday, the fin race was won by Odyssey, John Steinle's Catalina 27, and Fandango again took the honors in the full keel class.
A post-race award ceremony and party follows the race on both days and was held at Sailor's Wharf on Mill Creek off Whitehall Bay. As in years past, a music jam broke out at the Saturday evening session, led by Tartan sailors Tom Wells and Alfred and Bebe Poor. Good Old Boat Regatta founder Charlie Husar also joined in to lead a few numbers.
The Good Old Boat Regatta is organized by the Shearwater Sailing Club and is sponsored by Good Old Boat Magazine. The event receives additional support from Herr Foods. Among the many volunteers who help make the event possible, Bob and Cindi Gibson of Sailor's Wharf provide a site for the race gatherings, as well as their motorboat Crescent Moon that served as the race committee boat on both days.
---
Race Results
Saturday, October 9
Alberg 30, 4 boats


Lin Gin, Tim Williams
Windswept, Lanny Helms
Laughing Gull, Jonathan Adams
Skybird, Mike Nikolich



Cal 25, 6 boats


Zephyr, Dave Hoyt
Chicken Little, Charlie Husar
Quintet, Mike Miller
Ronin, Peter Sheils



Cal 36, 3 boats


Diamond in the Rough, Jim Mumper
Skean Dhu, Jock McClees
Good Cheer, Mike Greenhawk



Pearson 30, 3 boats


Adventure, Pat Nolan
Kaze Mizu, Scott Carpenter
Zephyr, Mike Jewell



Triton, 4 boats


Ca Ira, Kristen White
Sandpiper, Dan Lawrence
Sea Deuce, Jon Redifer
Triton's Fury, Tom O'Farrell



Tartan 30, 4 boats


Mya, Brian Gleeson
Windrift, Brad Whitehurst
Wendolene, Tim Critchfield
Miranda, Gene Gottschalk



Tartan 34C, 4 boats


Odyssey, David Shiff
Jambalaya, Alfred Poor
Sable, Les Hester
Aries, Dean Holt



Fin Keel, 12 boats


Chandelle, Peter Holden
Hanau, Nikos Singelis
Checkmate, Cindi Gibson
Odyssey, John Steinle



Full Keel, 13 boats


Fandango, Tony Silvio
Huntress, Mike & Morgan Doyle
Astarte, Ben Stavis
Katinka, Wayne Thayer



Sunday, October 10

Cal 25, 6 boats


Zephyr, Dave Hoyt
Chicken Little, Charlie Husar
Quintet, Mike Miller
Ronin, Peter Sheils



Pearson 30, 3 boats


Adventure, Pat Nolan
Kaze Mizu, Scott Carpenter
Zephyr, Mike Jewell



Triton, 4 boats


Sandpiper, Dan Lawrence
Sea Deuce, Jon Redifer
Ca Ira, Kristen White
Triton's Fury, Tom O'Farrell



Tartan 30, 4 boats


Miranda, GeneGottschalk
Mya, Brian Gleeson
Windrift, Brad Whitehurst
Wendolene, Tim Critchfield



Tartan 34C, 4 boats


Odyssey, David Shiff
Jambalaya, Alfred Poor
Sable, Les Hester
Aries, Dean Holt



Fin Keel, 12 boats


Odyssey, John Steinle
Chandelle, Peter Holden
Checkmate, Cindi Gibson
Vee Two One, John Oliver



Full Keel, 13 boats


Fandango, Tony Silvio
Song Line, Larry Taub
Rainbow, John Freal
Skye, Haskell Royer
---